This Stir Fried Wild Rice – or Minnesota Fried Rice as we refer to it around here – is inspired by a dish my mother used to make. I really need to sit down with her and figure out what that amazing dish consisted of one of these days. It was the most wonderful kind of "comfort food," and an old favorite that we definitely need to make again!
In the meantime, this Stir Fried Wild Rice dish makes a great accompaniment for pork and chicken. And, frankly, it's amazing all on its own if you're in the mood for a meatless meal. While this recipe can easily be halved, I'd suggest making the whole batch because stir fried wild rice is a fabulous option for quickly and delicious lunches!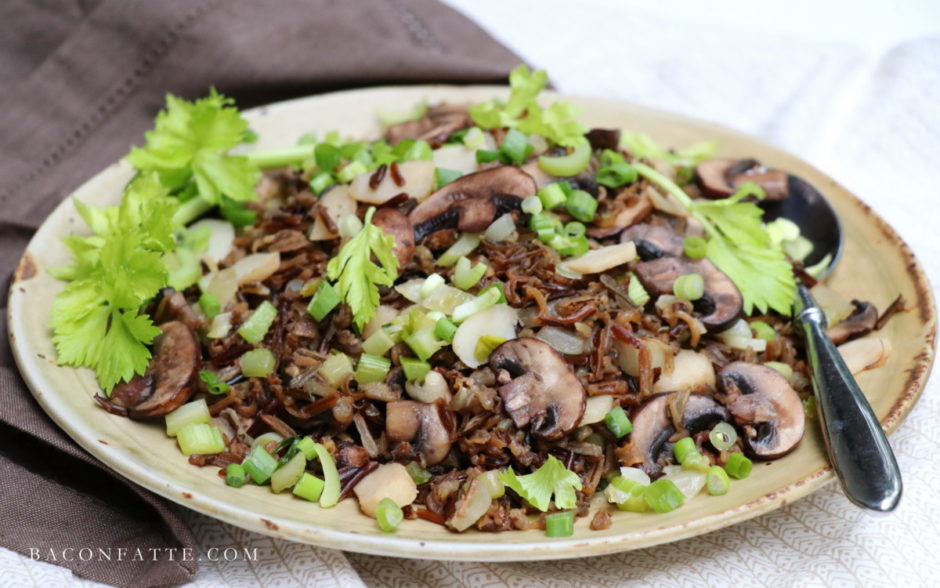 Just a few notes. I prepare each of the vegetables separately so I can make sure nothing gets overcooked. Make sure to reserve a little of the liquid from the water chestnuts – it's used to stretch the soy sauce so you don't have to use quite as much. Just a little salt and pepper are all you need to finish it off perfectly. The flavors of the sautéed vegetables and wild rice are so good together… You're gonna love it!
Enjoy!
Stir Fried Wild Rice – aka Minnesota Fried Rice
Excellent as a side dish served with pork or chicken, or even as a hearty vegetarian main course.
Recipe from:
Michele Phillips, BaconFatte.com
Cuisine:
Side Dish; Meatless Meal
Ingredients
1 cup sweet/yellow onion, chopped
7 scallions, thinly sliced – reserve 2 for garnish
1 cup celery, thinly sliced (about 3 stems)
3 cups baby Portobello mushrooms (about 8 ounces), sliced
6 cups cooked wild rice
1, 8 ounce can water chestnuts – sliced, liquid reserved
3 tablespoons low sodium soy sauce
3 tablespoons butter, divided
Salt and freshly ground black pepper to taste
Preparation
In a large skillet, melt 2 tablespoons of butter over medium heat. Add the onions and five of the seven scallions, and sauté just until slightly tender. Transfer to a heat-resistant bowl, cover, and set aside.
Place sliced celery and a pinch of salt (optional) in the skillet, and sauté until slightly tender, then transfer to the bowl with the onions. Cover and set aside.
Melt the final tablespoon of butter in the skillet, add the sliced mushrooms, and sauté just until they begin to release their liquids and become tender. Transfer the cooked onions to the bowl with the onions and celery. Cover and set aside.
Place the cooked wild rice in the skillet, and "stir fry" until rice is warmed.
Combine 3 tablespoons of soy sauce with 3 tablespoons of liquid reserved from the can of water chestnuts, and add to the rice along with the cooked onions, celery and mushrooms. Continue to "stir fry" for just a few more minutes until the liquids have reduced.
Serve warm. Garnish with fresh celery greens (chopped) and the remaining two thinly sliced scallions.
Making this Stir Fried Wild Rice – aka Minnesota Fried Rice?
I'd love to know how you liked the recipe!
Leave a note here on the blog in the comments below, or share your creations and ideas on Facebook, Pinterest, Instagram, Twitter, and/or Google+ .
Make sure to hashtag #baconfatte or tag @baconfatte in your social media posts!