The words "quick," "easy," and "the best" are used to describe recipes so often that they've almost become cliché.
Even die-hard cooking fanatics like myself appreciate quick meals, but somewhere in between "minimal prep" and "minimal cleanup," there must be "absolutely delicious." And, yes, bonus points are always awarded for "pretty" in my book.
If you've seen a few of my recipes, you know that I like dishes that aren't one hit wonders. I appreciate a good leftover lunch the next day. And, I'm always looking for entertaining ideas, and the best dishes to make for guests are the ones you've mastered for everyday meals.
Enter, this no-recipe recipe for Sweet and Spicy Pineapple Chili Chicken. It's become a go-to recipe in our house because it doesn't require a lot of work, and it's insanely delicious. It also goes with just about anything – from rice dishes to grilled or steamed veggies to noodles and stir fry.
We usually grill the chicken because the caramelization factor increases tenfold. I happen to love a little char, and my Grill Master husband is all-to-happy to make sure there's plenty of color on some of the pieces for that reason. But this chicken can also be baked in the oven and then placed under the broiler for a few minutes to add color and caramelization. The same goes for the pineapple.
Because there are no set amounts of ingredients, you can make as much or as little of this Sweet and Spicy Pineapple Chicken as you like. Make two pieces or ten. Make extra to chop up and top a chilled salad the next day, or re-warm for an even quicker leftover dinner the next night.
We generally use bone-in, skin on chicken thighs or drumsticks because they stay tender and juicy, and they hold the flavors really well. And as for garnishes, we often use thinly sliced scallions, but chives, parsley, cilantro and/or sesame seeds are also lovely additions.
I can't wait for you to try this truly "quick," and "easy" no-recipe recipe, because if you like lots of flavor and gorgeous color on your table, you'll think it's "the best," too!
Enjoy!
Sweet & Spicy Pineapple Chili Chicken
This chicken dish is simply delicious. It offers so much flavor, and the short ingredient list makes it the perfect dish for everyday lunches and dinners as well as for entertaining. Serve with just about anything, and garnish the way you like. It's a winner every time!
Recipe from:
Michele Phillips, BaconFatte.com
Ingredients
8 chicken thighs - bone-in, skin-on, trimmed
1, 20-ounce can pineapple slices (I like Dole brand with 100% pineapple juice)
sea salt and fresh cracked pepper, to taste
crushed red pepper flakes, optional
½ - 1 cup sweet chili sauce - more or less as preferred/needed
scallions, chives, parsley, cilantro and/or sesame seeds for garnish
Preparation
Preheat grill to medium-high or oven to 400 degrees F.
Trim any extra fat and skin from the chicken with a sharp kitchen scissors. Then, place the pieces of chicken side-by-side on a foil-lined, rimmed tray (if you'll be cooking the chicken fairly quickly), or in a glass casserole dish with a cover (if you're preparing it ahead of time and plan to refrigerate it for a few hours).
Lightly season the chicken with sea salt and fresh cracked pepper, then spread sweet chili sauce over the top of each piece with the back of a spoon or a basting brush. Turn each piece over and repeat. Sprinkle red pepper flakes on the skin side of the chicken (optional, but really good if you want to add a little heat).
Drain the pineapple slices (reserve the juice for marinades or iced vodka cocktails), and lay them on a plate. Brush lightly with olive oil, and then pan seer, broil or grill for just a couple of minutes on each side so the slices caramelize and brown a bit, but remain juicy. Set aside until chicken is cooked.
Grill or bake/broil chicken – turning half way through the cooking process – until chicken juices are clear an internal temperature of 165 degrees F is reached. This should take between 25 and 35 minutes, depending on the intensity of your grill or oven.
Garnish with the pineapple slices and thinly sliced scallions, chives, parsley, cilantro, sesame seeds and/or crushed red pepper flakes, and serve immediately.
Cook's Notes:
*Some brands of sweet chili sauce have more sugar and/or sodium than others, so adjust your seasoning accordingly.
Larger Asian food markets
usually have the biggest variety of brands and types to choose from.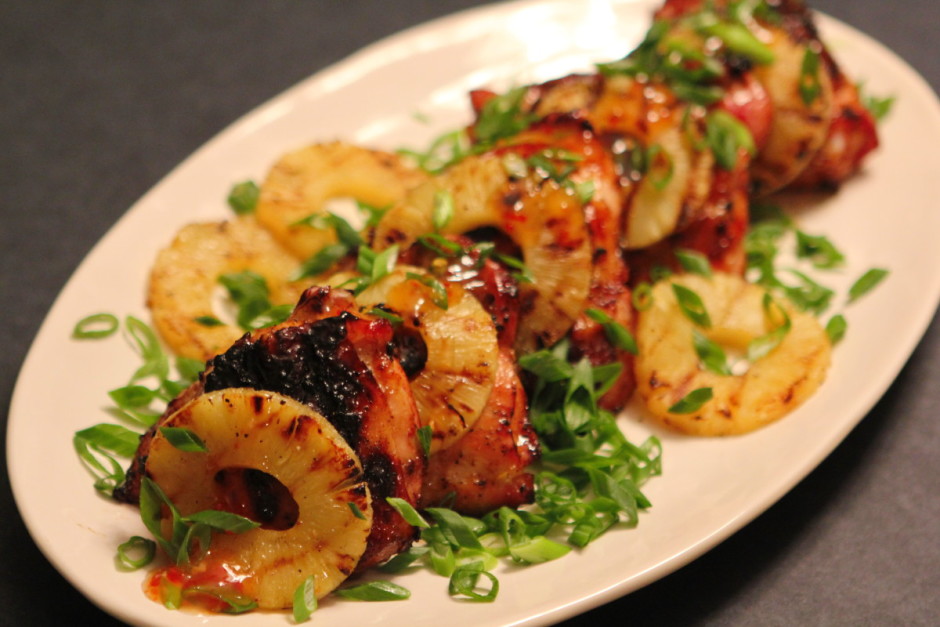 Let's connect!
I'd love to hear how you enjoyed this Sweet and Spicy Pineapple Chili Chicken #recipe! Let me know by commenting here on the blog or sharing it on Facebook, Pinterest, Instagram, Twitter, and/or Google+… Make sure to hashtag #baconfatte or tag @baconfatte!