Sweet Potato, Apple and Corn Coconut-Curry Chowder
photos & recipe updated October 10, 2017
One of the things I love most about cooking is that you always learn something when you try a new recipe. We fell in love with a Grilled Halibut with Corn-Coconut Curry Sauce and Cherry Tomatoes recipe recently, and could barely keep our spoons out of the corn-coconut curry sauce while making it… It was warm and a little spicy with perfectly balanced sweet and savory flavors. We couldn't get enough!
That incredible sauce inspired this heavenly curry chowder recipe. It's hearty, but not too heavy. To keep it lighter, I used lite coconut milk and borrowed a simple method from my Butternut Corn Chowder with Sage and Bacon recipe. I used an immersion blender to partially purée the ingredients. Doing that makes the chowder thick and creamy without adding thickeners and heavy cream.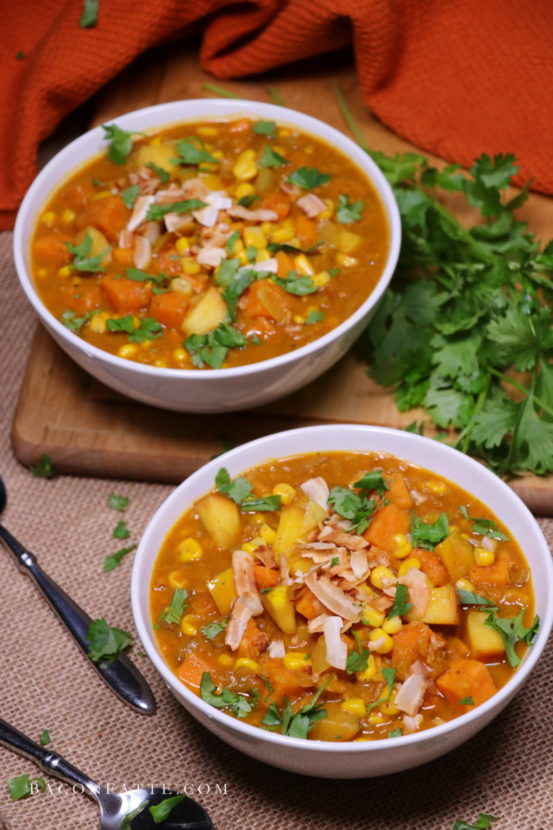 We've enjoyed this curry chowder for dinner as both a side and a main dish. We've also added it to our Thanksgiving menu for a refreshing twist. Like most soups and chowders, this one is even more delicious the next day which makes it great for lunch, too!
If you like rich, Autumn-y flavors, you're going to love this veggie-filled curry chowder! It even comes with its own Homemade Spicy Curry Seasoning Blend recipe, so you can adjust the rich flavors and spices to suit your preferences.
Enjoy!
Sweet Potato, Apple and Corn Coconut-Curry Chowder
This beautiful chowder is hearty, but not too heavy. It's warm and a little spicy with perfectly balanced sweet and savory flavors. It's absolutely wonderful on its own or as a second course with grilled or roasted chicken, turkey or pork.
Recipe from:
Michele Phillips, BaconFatte.com
Recipe type:
Soups, Stews & Chowders
Ingredients
4 - 6 tablespoons canola oil, divided
8 cups sweet potatoes, peeled and diced (about 3 pounds/3 large)
2 cups white or yellow onion, diced (about 1 large onion)
2 cups crisp apples, cored & diced (about 2 medium apples)
4 tablespoons Homemade Spicy Curry Seasoning Blend + more to taste
3 cups apple cider
3 cups chicken or vegetable stock
1, 13.5 oz. can unsweetened coconut milk
5 cups frozen yellow sweet corn kernels
Garnishes:
¼ cup unsweetened raw coconut chips + more to taste, toasted
½ cup fresh cilantro or parsley, chopped + more to taste
Preparation
Make the Homemade Spicy Curry Seasoning Blend (recipe here).
In a Dutch oven or large soup pot, heat 4 tablespoons of oil over medium heat. Add diced sweet potatoes and apple cider and stir well. Cover and cook for 15 – 20 minutes to par-cook the sweet potatoes, stirring every five minutes.
Add diced onions and apples, Homemade Spicy Curry Seasoning Blend, remaining 2 tablespoons of oil (optional), coconut milk, and chicken or vegetable stock. Stir well, and allow to simmer (uncovered) for about 20 minutes. Stir occasionally.
Add the sweet corn kernels and stir again. Reduce heat to low, cover the pot and simmer for an additional 20 – 30 minutes. Stir often so everything cooks evenly and flavors are completely distributed.
Using an immersion blender, lightly puree the ingredients right in the pot. Make sure to leave some ingredients in pieces for a fabulously chunky, chowder-y texture. If you don't have an immersion blender handy, you can also spoon about 3 cups of the chowder into a blender or food processor, and then return blended ingredients to the pot and stir.
To toast the coconut chips (or large flakes): Toss them into a sauté pan over medium heat until lightly toasted.
To serve, spoon chowder into bowls and sprinkle with toasted coconut flakes and/or chopped cilantro or parsley.
Cook's Notes:
*The Homemade Spicy Curry Seasoning Blend recipe makes approximately 7 tablespoons of seasoning. Keep the extra mix in a covered spice jar and away from direct sunlight; use to season meats, veggies and sauces.
*Keep any leftover chowder in the refrigerator in an air-tight container for up to three days, or freeze to enjoy another time.
*This dish was inspired by a recipe by
Bobby Flay on Food Network
.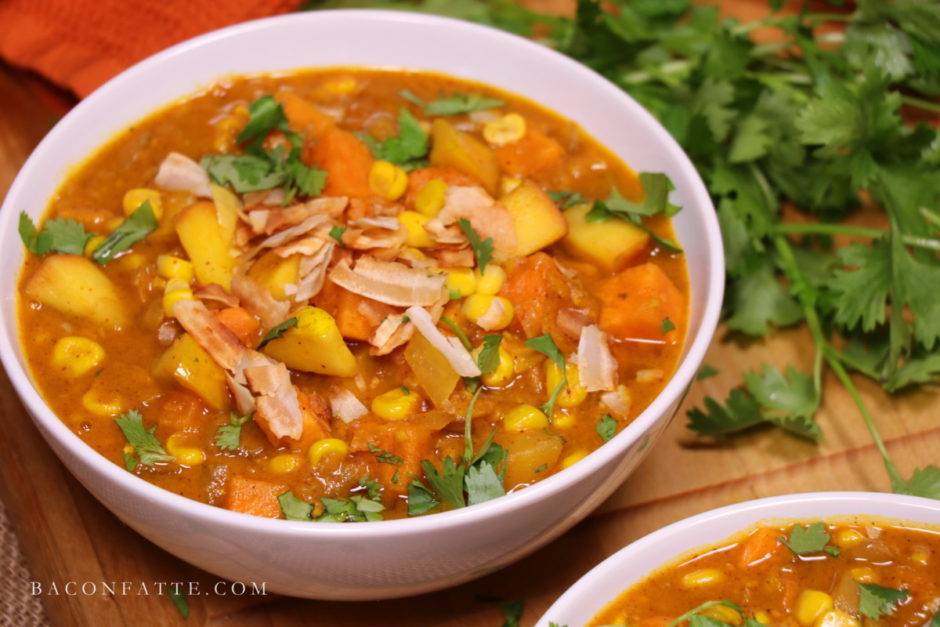 Sweet Potato, Apple and Corn Coconut-Curry Chowder
If you make this recipe, let me know how you liked it!
Leave a note here on the blog in the comments below, or share your creations and ideas on Facebook, Pinterest, Instagram, Twitter, and/or Google+ .
Make sure to hashtag #baconfatte or tag @baconfatte in your social media posts!