Looking for a crowd pleaser that has some "Wow Factor," but doesn't take all day to make? Put this beautiful, super delicious Turkey Meatball Orzo Salad with Veggies on your menu, and you'll be set!
According to some traditions, eating black eyed peas and greens on New Year's Day will bring good luck. I don't really believe in sitting around and waiting for good things to happen, so I decided to start early with the black eyed peas and greens thing. And while I was at it, I thought I'd give the old tradition a fresh, colorful new twist, too!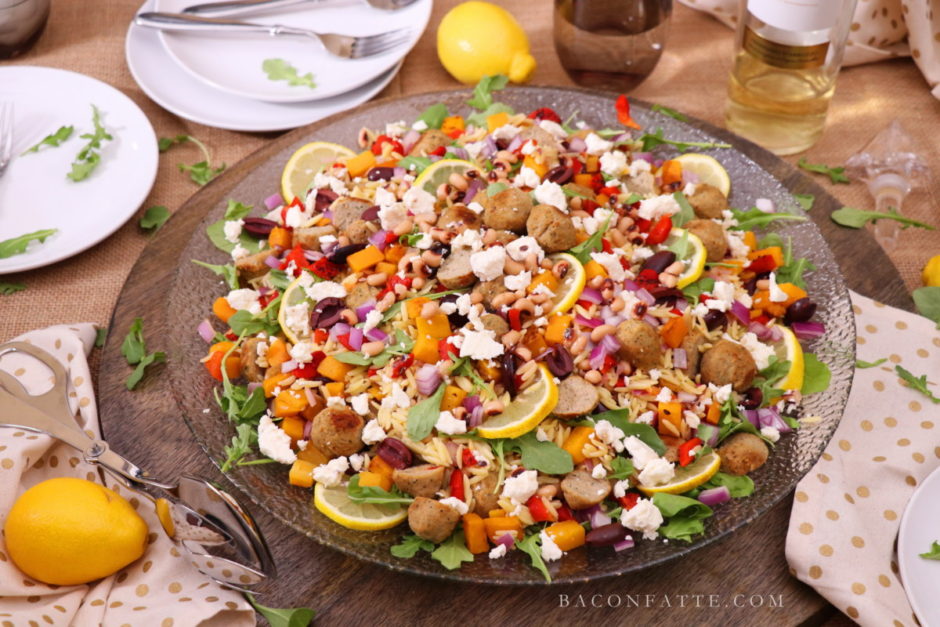 What You'll Need
Simek's Half-Ounce Turkey Meatballs
Orzo pasta
Butternut squash
Red onion
Roasted red bell peppers
Kalamata olives
Black eyed peas
Golden raisins
Arugula
Feta cheese
Lemons
Olive oil (preferably extra light)
Salt and pepper (optional)
This post is sponsored by SIMEK'S. I received compensation and product related to this post, but all opinions and are my own.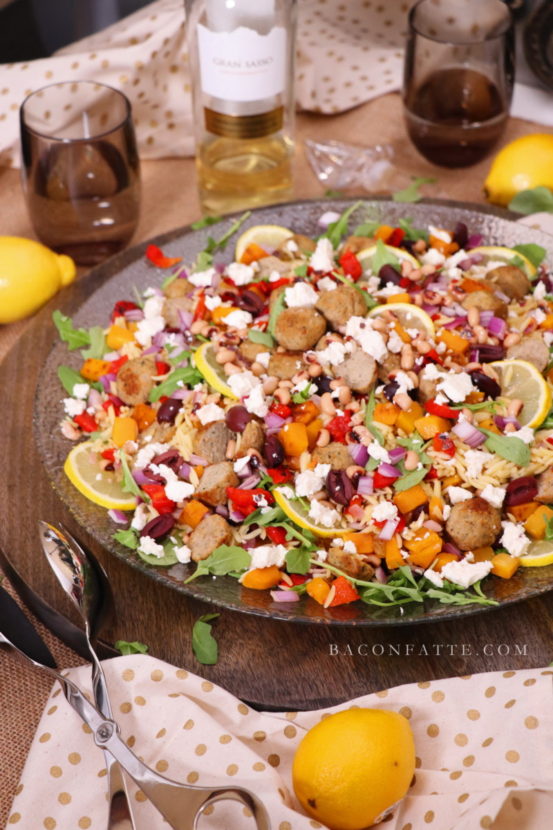 What You'll Love
With just a little prep – which can be done ahead of time – you can toss together this beautiful Turkey Meatball Orzo Salad in a matter of minutes and be mixing and mingling with friends and family instead of slaving away in the kitchen!
Meatballs: We all love them, but they can time-consuming to make. Thankfully, SIMEK'S has done all the work for you! Their Turkey Meatballs – which are the ones I used in this recipe – are fully cooked, nicely seasoned, and gluten free. SIMEK'S provides simple instructions for preparing their meatballs on the stove top (which is my favorite way to make them), in the oven, or microwave. Simple. Easy-peasy. Delicious. What more could you ask?! 😊
This recipe was developed to feed a crowd for dinner parties, holidays, and gatherings of all kinds. It makes 14 cups of salad, but can be cut in half very easily if you're preparing this for a smaller group.
There are no heavy dressings in this Turkey Meatball Orzo Salad to add calories or "dry out" unpleasantly on the buffet table. And, while I personally recommend every ingredient included in the recipe for the full, fabulous flavors it was intended to have, you can certainly reduce or omit any ingredients to suit your preferences. If you want a totally gluten free dish, just use rice instead of orzo!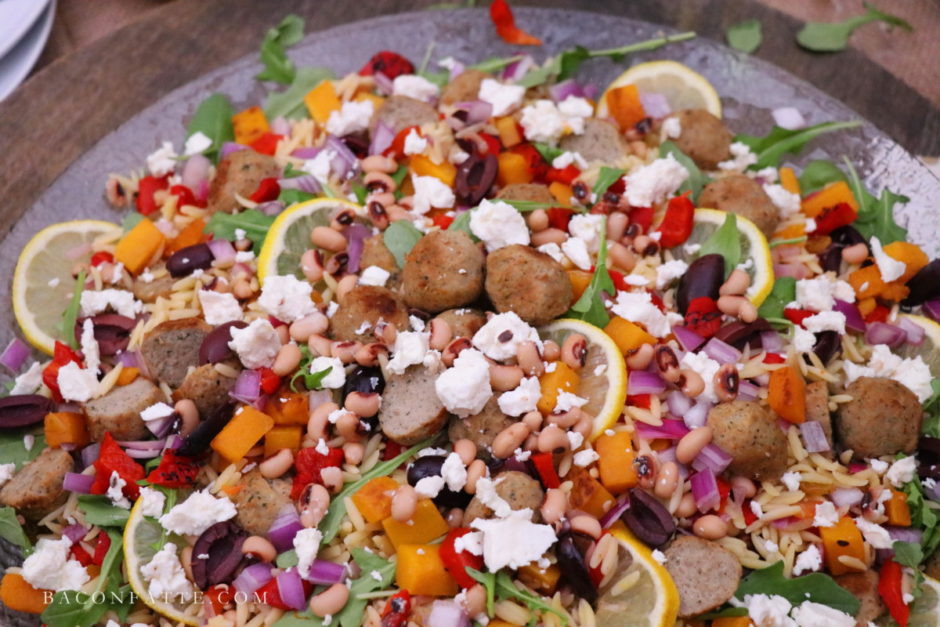 Here's The Story
As a Minnesota native, I've enjoyed SIMEK'S food many times over the years. Recently, I had the opportunity to try their delicious meatballs at a fabulous Meatball Bar that they provided at an event, and I was blown away by how flavorful they were! When I learned that SIMEK'S was looking for food bloggers to create easy meatball recipes for the holidays to help promote their #onegivesone campaign, I couldn't wait to start cooking!
YOU can give back, too, simply by enjoying this product! What's not to love about that?
Follow @simeks and they will donate a meal for every follow from now until 1/5/18 up to 5,000 meals!
SIMEK'S believes that meals are meant to be shared — and so do I! Please consider following SIMEK'S to help build this generous campaign. If you'd like to know where to find their delicious products, just visit the store locator on their website!
I hope you have a chance to try this recipe – at any time of the year, and I hope you love it as much as we do!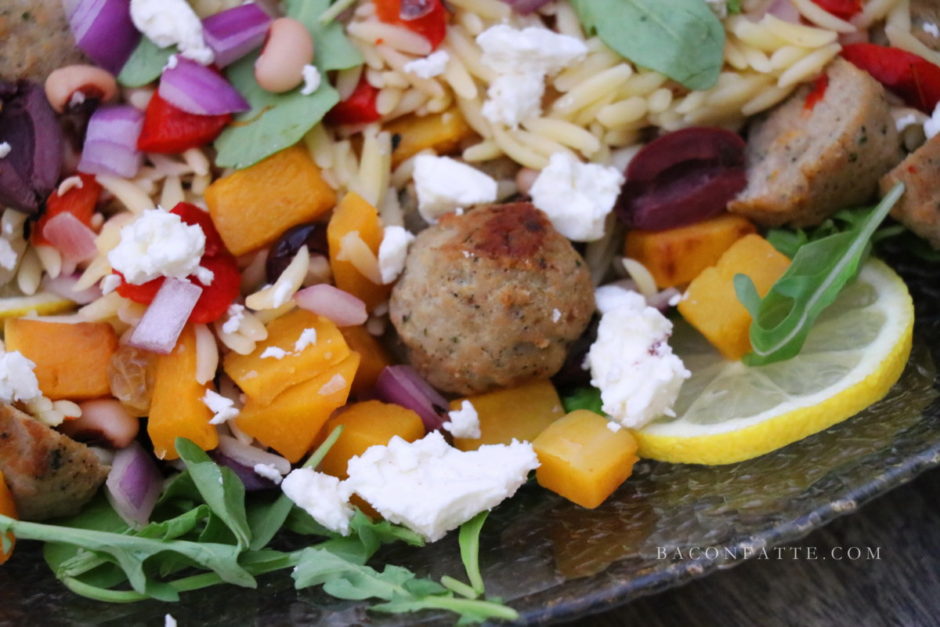 Enjoy!
Turkey Meatball Orzo Salad with Veggies
Looking for a crowd pleaser that has some "Wow Factor," but doesn't take all day to make? Put this beautiful, super delicious Turkey Meatball Orzo Salad with Veggies on your menu, and you'll be set!
Recipe from:
Michele Phillips, BaconFatte.com
Cuisine:
Pasta Dishes, Family Style
Ingredients
1, 1 pound bag Simek's Half-Ounce Turkey Meatballs, halved
1 pound Orzo, cooked
1, 16 ounce package pre-cut butternut squash* (about 3 cups)
2 cups red onion, chopped
1 ½ cups (16 ounce jar) roasted red bell peppers, drained & chopped
1 cup Kalamata olives, pitted and halved
1, 15 ounce can black eyed peas, drained and rinsed
½ cup golden raisins
4 – 5 cups fresh arugula, lightly packed, + more to taste
4 – 6 ounces fresh Feta cheese, crumbled, + more to taste
2 large fresh lemons, sliced
4 – 5 tablespoons good quality extra light, pure olive oil
½ water
Salt and pepper, to taste (optional)
Preparation
Cook the meatballs on the stove top, or in the oven or microwave, according to directions on the package. I like to cook them in a skillet over medium heat which caramelizes them a bit for added color and flavor. Just add a little water to the pan, and turn them a few times. Cover to keep warm until you're ready to add them to the salad.
Prepare a pasta pot with salted water, and cook the orzo according to directions on the package. When pasta is al dente, drain the water, add 2 tablespoons of olive oil, stir well, cover, and set aside.
In a large skillet, add 1 tablespoon of olive oil and ½ cup water, and sauté the cubed butternut squash 10 – 12 minutes, or until tender and slightly caramelized. When squash is cooked, transfer to a bowl, cover to keep warm, and set aside.
Chop onions. Add 1 tablespoon olive oil to the skillet and sauté the chopped red onion for a minute or two, just until it softens slightly. You want a little crunch left in the onions for best flavor in the salad.
Chop the roasted peppers, halve the olives, drain and rinse the black eyed peas.
In the large skillet, add the cooked orzo, onions, squash, peppers, olives, black eyed peas, and raisins, and toss to warm and combine ingredients.
To Serve: Spoon warm salad into a serving bowl, and toss in the arugula and feta. Serve warm or at room temperature with plenty of fresh lemon slices or wedges. Leftovers hold well for up to two days when covered and refrigerated.
Cook's Notes:
*To keep prep time down, I bought a package of pre-cut butternut squash. The quality factor was totally on-point, and the butternut squash brings lots of great flavor to this salad.
*If you want extra color and "pop", reserve a few tablespoons of each of the chopped ingredients (except the squash) and feta, and use the fresh chop to garnish the salad just before serving.
*To prepare ahead: Prepare the orzo and do all of the chopping and sautéing up to a day in advance. Assemble in order in a large skillet to combine and warm ingredients. Garnish and serve.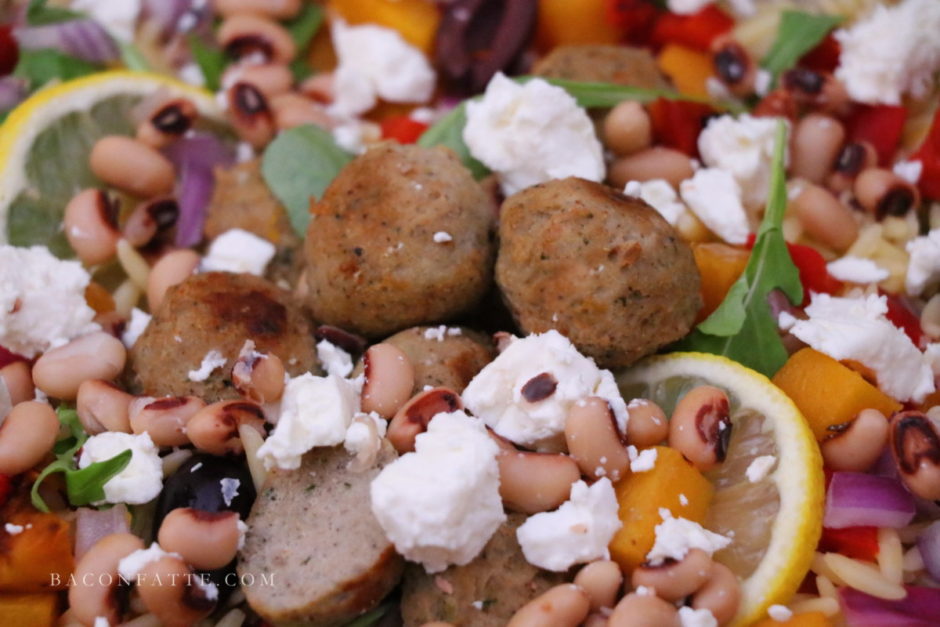 Making this Turkey Meatball Orzo Salad with Veggies?
I'd love to hear about it!
Leave a note here on the blog in the comments below, or share your creations and ideas on Facebook, Pinterest, Instagram, Twitter, and/or Google+ .
Make sure to hashtag #baconfatte or tag @baconfatte in your social media posts!