Someday I'll bake an apple pie. It'll be filled to the brim with apples, and topped with the most beautifully artistic crust. It'll come out of the oven perfectly… The stuff of legend… All that.
Until then, I'll keep baking this gorgeous Apple Pie Bread with Oatmeal Crumb.
It's heady and dense with beautiful bites of apple throughout. The crumb topping – like the icing on a cake – finishes the soft bread with a perfect oatmeal-studded cinnamon and sugar crust.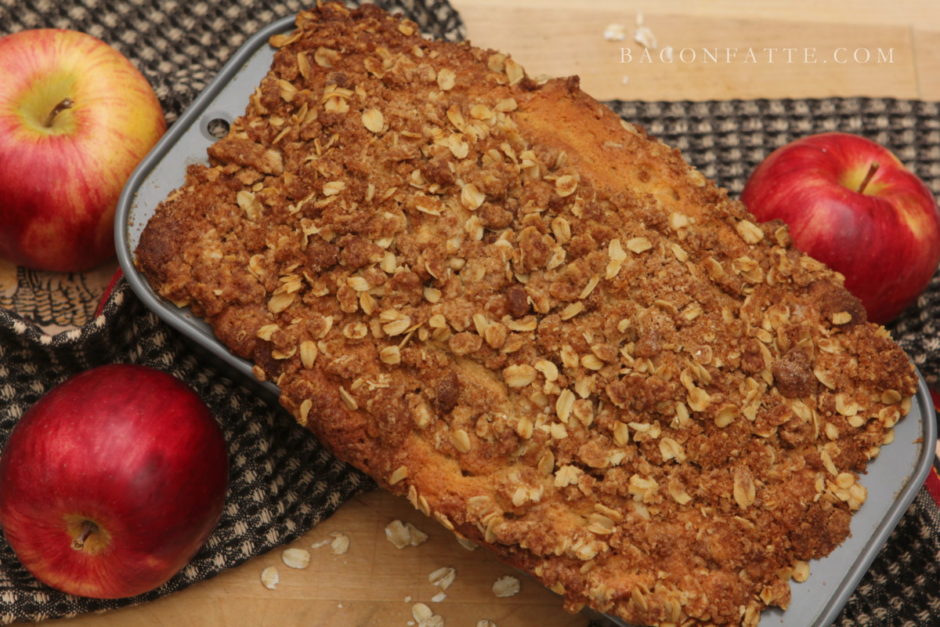 Just so pretty!
This Apple Pie Bread recipe makes one large, gorgeous loaf or five mini loaves. Either way, it makes more than enough to share if you're so inclined.
Tips for perfect Apple Pie Bread
• Watch your baking time. Every oven heats differently, so use prescribed baking times as a guideline only – never the rule. This recipe calls for about 60 minutes baking time, and I start checking it around 40 minutes. With mini pans, cut those time allowances in half. If using glass pans, set the oven temperature about 20 degrees lower and/or bake for less time.
• And for something as daringly dense as this Apple Pie Bread (hellooo, all that apple sauce provides some serious moisture!), you'll still see some tiny crumbs on the tester toothpick when it's done. No batter, just bits of crumb. That's a good thing.
• Going for the big loaf (like the one pictured above)? Do expect the batter to billow up over the edge of the pan a bit. You *could* split the batter into two standard pans if you want, but no one will complain if your Apple Pie Bread has a "muffin top." I promise!
• If you're baking mini loaves, plan on putting about ¾ cup of batter in each little pan for neat little loaves like the ones pictured below. Or, add more batter if you want muffin-topped minis.
• This Apple Pie Bread is a great make-ahead treat. The flavors get richer over time, so if you're making it today to serve tomorrow or the next day, you're golden.
Enjoy!
Apple Pie Bread with Oatmeal Crumb Topping
This beautiful Apple Pie Bread with Oatmeal Crumb is heady and dense with beautiful bites of apple throughout. It's even more delicious the next day!
Recipe from:
Michele Phillips, BaconFatte.com
Recipe type:
Quick Breads, Breakfast & Brunch, Desserts
Ingredients
For the Apple Pie Bread
½ cup butter, at room temperature
½ cup granulated sugar
½ cup brown sugar, packed
⅓ cup buttermilk (regular or low fat)
2 teaspoons baking powder
2 eggs, at room temperature
1 teaspoon vanilla extract
2 cups + 2 tablespoons All Purpose flour, divided
¼ teaspoon ground cinnamon
¼ teaspoon ground nutmeg or Allspice
¼ teaspoon ground ginger
½ teaspoon salt
2 cups apples, peeled and chopped
¾ cup unsweetened apple sauce
For the Oatmeal Crumb topping
¼ cup brown sugar, packed
½ teaspoon ground cinnamon
3 tablespoons All Purpose flour
2 tablespoons butter, softened
⅓ cup oatmeal (dry, uncooked)
Preparation
Preheat your oven to 350°F. Coat the inside of one standard, or five mini, loaf pan(s) with butter and set aside.
In a large bowl, add butter and both sugars, and beat until mixture becomes creamy. Then, add the buttermilk and baking powder and continue beating until combined. Add eggs and vanilla, and beat again.
Add flour, cinnamon, nutmeg or Allspice, ginger, and salt, and beat or stir just until combined.
In a small bowl, toss the chopped apples and the 2 tablespoons of flour together to coat the apples, then fold the coated apples into the batter with a spatula.
Pour the batter into the prepared pan(s), and even the top of the batter with a spatula.
To make the Oatmeal Crumb: Place the brown sugar, cinnamon, flour, and oatmeal in a small bowl, and blend with fork until most of the ingredients form coarse crumbs. Sprinkle the crumbs evenly over the top of the batter.
Bake standard loaf for 50 - 60 minutes; mini loaves for 20 – 30 minutes. Insert a toothpick into the center of the loaf to test doneness. If batter sticks to the toothpick, bake for a few minutes longer.
Allow bread to cool in the pan for about 10 minutes, then remove from the pan and allow to cool completely on a wire rack.
Serve right away, or store cooled Apple Pie Bread in an air-tight container in the refrigerator for up to three days.
Craving more apple-y deliciousness?
Try these other apple bread recipes and apple-licious ideas!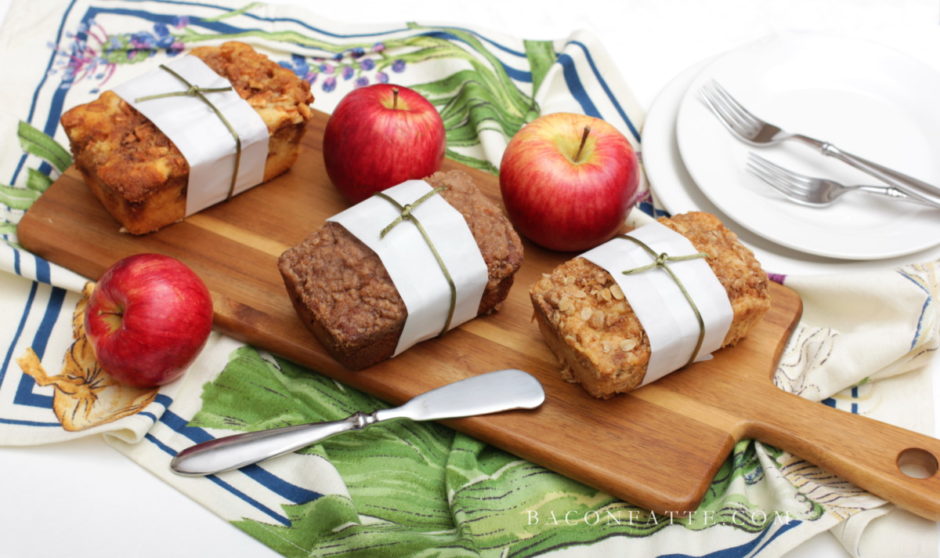 I would LOVE to know what you think of this Apple Cinnamon Ribbon Bread recipe!
Feel free to leave a note here on the blog in the comments below, or share your creations on Facebook, Pinterest, Instagram, Twitter, and/or Google+ .
Make sure to hashtag #baconfatte or tag @baconfatte in your social media posts!