These hearty Blackened Steak Tacos with Pumpkin, Sweet Corn & Red Bean Salsa have recently become one of our favorite ways to break into pumpkin season.
I'm using the term "salsa" loosely here as I'm not sure it's technically a salsa (salsa experts, I'd love your opinion here!). But we're serving it as a salsa, so that's how we're going to refer to it.
The salsa is actually cooked in a cast iron skillet, one ingredient at a time. That way the finished salsa is nice and "clean" with all the bright colors in tact.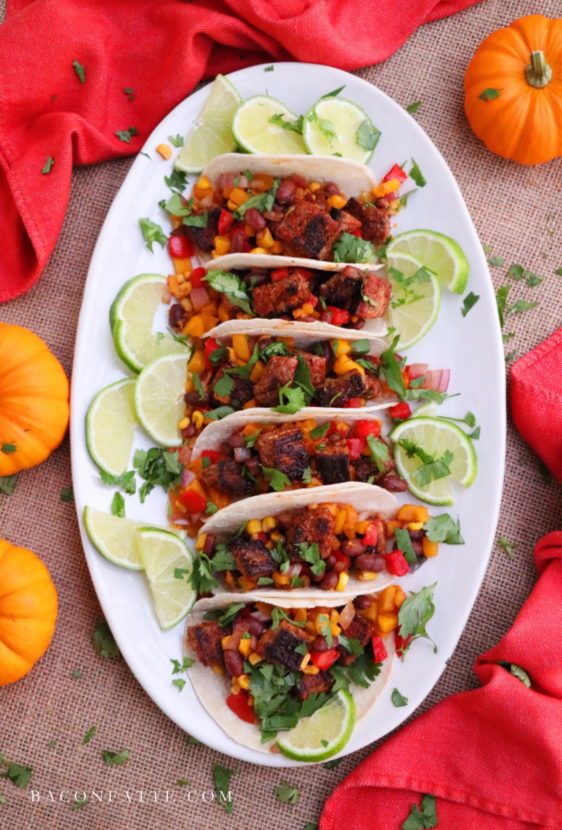 I like to cook the pumpkin so it's fairly tender, and the same goes for the onions. For the corn, I usually l it brown just a bit. The tomatoes are only cooked for a minute or so because you want them to stay firm.
You can use whatever cut of beef you like – even stew meat works well. Just make sure to cut it against the grain when you cut it into small bite-sized chunks. That way, you won't have to chew through a large piece in your tacos.
Petite "pie pumpkins" are perfect to make the salsa with. They're easy to handle and have lots of fresh pumpkin flavor. The salsa recipe makes quite a bit – about seven cups. It's perfect for feeding a crowd and it's delicious the next day, too, if you happen to have any left over.
Enjoy!
Blackened Steak Tacos with Pumpkin, Sweet Corn & Red Bean Salsa #PumpkinWeek
This hearty, colorful Blackened Steak Tacos with Pumpkin Salsa recipe is easy to make for a healthy weeknight dinner or to feed a crowd.
Recipe from:
Michele Phillips, BaconFatte.com
Ingredients
1 pound beef steak, cut into bite-sized chunks
Homemade Blackening Seasoning recipe here
4 cups fresh pumpkin* – peeled, seeded and chopped
1 cup red onion, chopped
1½ cups yellow corn kernels, thawed if frozen
1½ cups Roma tomatoes, chopped
1 16 ounce can red beans, drained
6 - 8 tablespoons olive oil – divided, plus more if needed
Salt and pepper to taste (optional)*
12, 4-inch soft white corn or flour tortillas
1 – 2 limes, sliced for serving
A handful of cilantro or flat leaf parsley, chopped, for garnish
Preparation
Chop your beef steak into small bite-sized chunks. Season the chunks well with blackening seasoning, and set aside.
Peel and de-seed the pumpkin, and chop into small pieces. In a large skillet, add 3 tablespoons of oil and the chopped pumpkin. Cook over medium heat, stirring often. When fork tender, transfer cooked pumpkin to a heat resistant bowl and set aside.
Next, add the chopped onion and a tablespoon of oil to the pan, and cook until tender. Transfer cooked onion to the bowl of cooked pumpkin and set aside. Repeat this cooking process with the corn kernels. Repeat also with the chopped tomatoes, but only cook the tomatoes for a minute or so they're still firm (not mushy).
Finally, add the red beans to the pan and cook just until any liquid has reduced completely.
Rinse the pan, add the final tablespoon or so of oil, and heat to medium-high. Add the beef chunks to the pan being careful not to crowd them. Seer the first side, and then turn each piece over to seer the opposite side until the beef is cooked to desired doneness.
Stir all of the cooked salsa ingredients together. Assemble tacos by layering beef and salsa into tortillas, and serve with plenty of fresh lime wedges and chopped cilantro or flat leaf parsley.
Cook's Notes:
*I use a 2 pound pie pumpkin for this recipe with equals about 1¼ pounds after peeling and de-seeding.
*Because the blackening seasoning has salt and pepper in it, I don't usually find the need to add salt or pepper to the pumpkin salsa. Taste each and add if needed.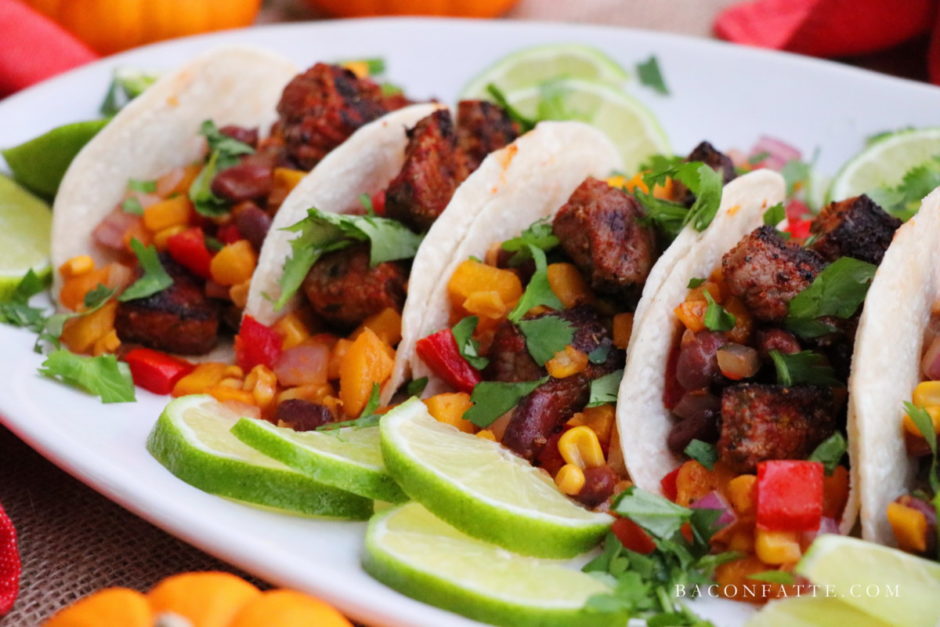 *Cilantro Lime Yogurt Sauce goes really well with this steak tacos recipe!