My husband ordered pancakes at one of our favorite restaurants recently. We've had their pancakes before, and they're excellent. This time, however, our server asked if he'd like blueberries added. There was no hesitation… He absolutely wanted blueberries. He was so cute!
When they arrived at the table – all fresh and hot, with a big pat of butter lazily melting over the stack, and those tasty little blueberries peeking out all over – our server didn't even have time to ask if there was anything else we needed right away… He poured the syrup and popped the first forkful in his mouth… And he closed his eyes and smiled.
We normally offer each other a taste from our plate, and when I offered him a taste from mine, he didn't even look up. The look on his face was pure bliss. Those blueberry pancakes had clearly struck a cord and he wasn't "coming up for air" until he had savored every last bite. You've got to love a man with such conviction!
I just kept thinking: "Wow… I really need to make blueberry pancakes more often!"
And I did. The very next day.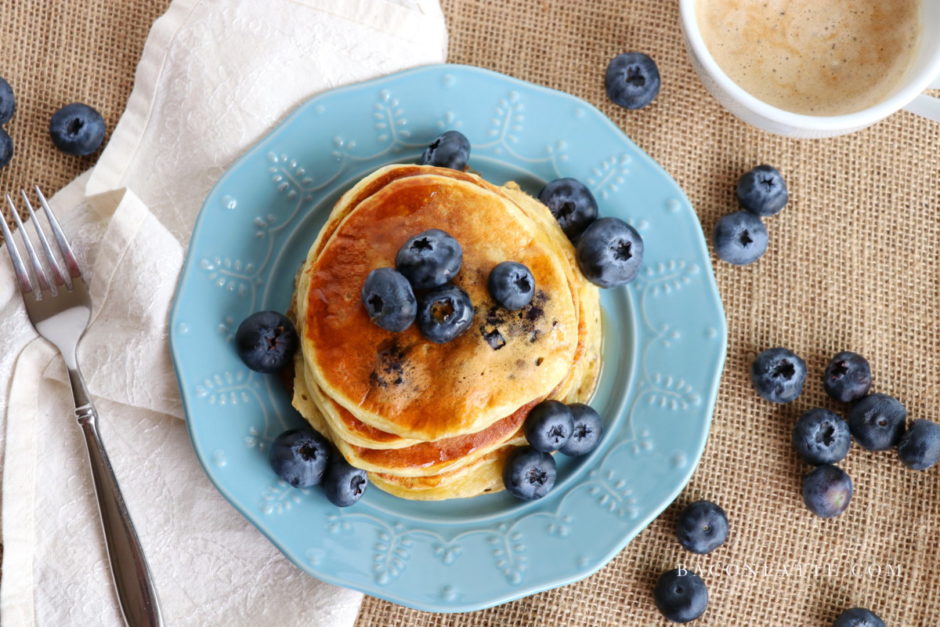 We both love pancakes – especially blueberry pancakes. But I admit that I don't make them often because I usually opt for protein-rich items. If I eat too many carbs for breakfast, I'm hungry all day. I think that goes for most people.
These delicate little yogurt pancakes have plenty of protein, so they're perfect! They're amazing fresh out of the pan, of course, but they re-heat nicely, too.
We looooove vanilla bean flecks, so I started making our fave blueberry pancakes with vanilla bean paste sometime last year and we haven't looked back.
One batch lasts several days for us. I pack them up in take-along containers and add a drizzle of maple syrup and a handful of fresh blueberries on top because there's no such thing as too much blueberry goodness. And then I get to feel like a really good wifey when I send my hubby off to work with something healthy-ish that I know he'll thoroughly enjoy when he gets to his office.
After he's thoroughly enjoyed his blueberry pancakes, he usually sends me a text or calls to tell me that he loved his breakfast. That makes me smile.
Yeah. We're kinda sappy like that. But when something as simple as blueberry pancakes makes someone you love happy, making them is a no-brainer. Especially when they're this good.
Enjoy!
Blueberry Vanilla Bean Yogurt Pancakes
These Blueberry Vanilla Bean Yogurt Pancakes are a great way to start the day. They're protein-rich, lightly sweet, and absolutely delicious. You'll love them!
Recipe from:
Michele Phillips, BaconFatte.com
Cuisine:
Breakfast & Brunch
Ingredients
½ cup unbleached all-purpose flour
1½ teaspoons baking soda
¼ teaspoon Kosher salt
2 cups yogurt
4 large eggs
2 tablespoons brown sugar
½ teaspoon vanilla bean paste or vanilla extract
1 cup fresh blueberries
Butter for the pan
Preparation
In a small mixing bowl, whisk together the dry ingredients: flour, baking soda, and salt.
In a medium-sized mixing bowl, whisk together the yogurt, eggs, brown sugar, and vanilla bean paste or vanilla extract. Then add the dry ingredients and whisk gently until just combined. Fold in the fresh blueberries.
Place a pan over medium low heat (I use a non-stick pan), and add a pat of butter. Coat bottom of pan with butter. Just when the butter starts to brown slightly, add pancake batter (I use a ¼ cup measuring cup). Add as many pancakes to the pan as you can fit without crowding.
Cook for about 2 minutes, or until bubbles form evenly across the surface of the pancakes and they're easy to flip. When ready, flip and cook for another minute or so until done. Remove from pan and serve immediately, or keep warm in the oven at 200°F. See notes below for more ideas on serving and storing.
Add a little more butter to the pan (just a teaspoon or so – enough to coat the pan) in between batches, and repeat cooking process until all the batter is gone.
Makes approximately 20, 4-inch" pancakes.
Cook's Notes:
*Serving suggestions: More butter, maple syrup, fresh blueberries
*These pancakes are light and delicate, but not as "fluffy" as traditional pancakes. *They will deflate slightly as they cool.
*They're a great make-ahead breakfast, so you can pack them up to grab-and-go for several days.
*If freezing, place a small piece of parchment in between each pancake so they're easier to separate and thaw when needed.
Recipe adapted from
Food Network Kitchen
Blueberry Vanilla Bean Yogurt Pancakes
If you make this recipe, I'd love to know!
Feel free to leave a note here on the blog in the comments below, or share your creations on Facebook, Pinterest, Instagram, Twitter, and/or Google+ .
Make sure to hashtag #baconfatte or tag @baconfatte in your social media posts!