This chocolate pumpkin cake was a favorite of ours several years ago. I wish I could remember where I first heard about it. I recall it being mentioned in an office conversation at work, and I remember trying it – and loving it – that very night at home. I also know that when I brought it into work the next day, it didn't last very long.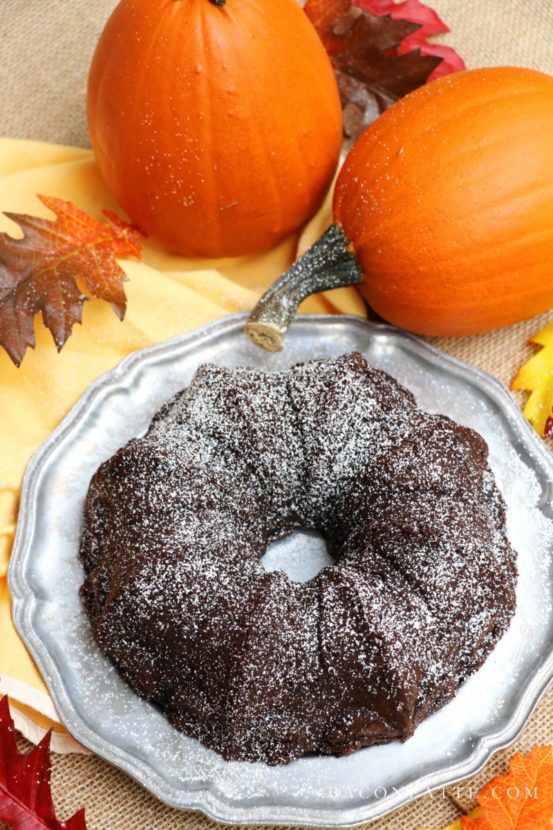 I think I made "my" chocolate pumpkin cake at least a dozen times that fall and winter. The following spring likely distracted me with berries and other light, bright flavors, so I tucked this recipe away in my mind. I've thought about it every fall since, and when I joined a bunch of other food bloggers for a #PumpkinWeek event this year (see below!), I finally had an "excuse" to make it again.
It's ridiculously easy and it requires only a few ingredients. I still remember the look I used to get when people tasted it for the first time and wouldn't believe it was a box cake mix.
I'm generally a scratch-made cake kind of girl, but there have been several occasions over the years where box cakes served me very well. And you know what? I'm not apologizing for it because we don't discriminate against delicious in our house!
So let me tell you a little about this…
Ridiculously Good Fudgy Dark Chocolate Pumpkin Cake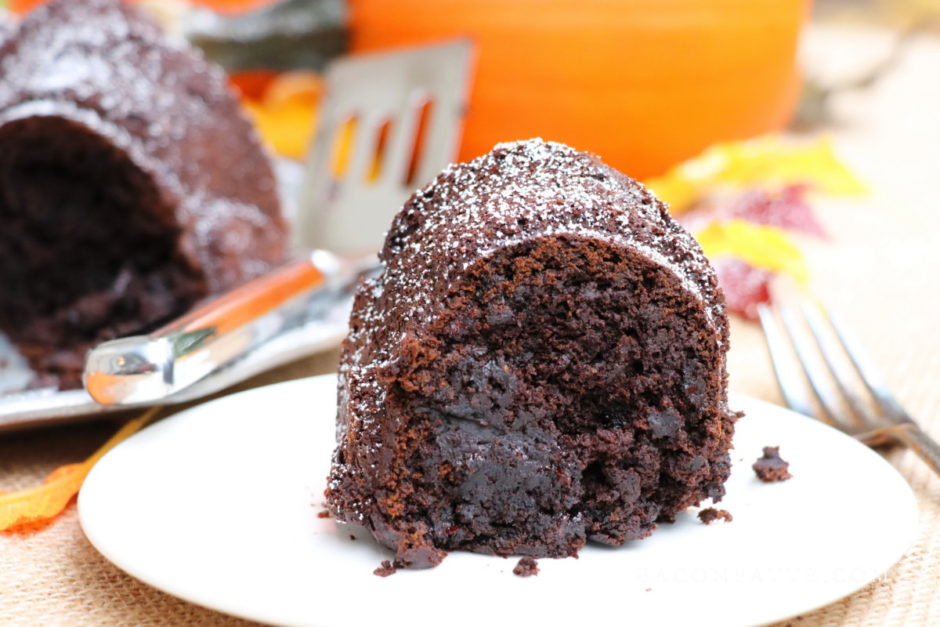 Chocolate
You can use any brand or kind of chocolate cake you want. I love dark chocolate, so naturally this chocolate pumpkin cake became a dark chocolate pumpkin cake pretty quickly for me. The mini chocolate chips kind of melt into the cake and make it more "fudgy" – which I really like.
Pumpkin
As with anything that only has a few ingredients, the better-quality ingredients you use, the better flavor you'll get. I've listed the brands I used in the ingredients below, because I've found them to work best for me. Using 100% pumpkin does add pumpkin flavor to this cake. There are brands that use a mix of pumpkin and squash, and I've found that they don't have as much flavor. Again, it's up to you, but I love the fact that this cake has pumpkin flavor without any "pumpkin spice" fuss. (Nothing against pumpkin spice, but sometimes, I'm just not in the mood for it.)
Cake
We all have our preferences, so I'm going to tell you right now that if you're looking for something light and airy, this chocolate pumpkin cake isn't for you. If you're into rich, decadent, dense flourless chocolate cakes and tortes like I am, then you're in for a treat, my friend!
I call this a "party cake," because, well, it's perfect for parties! It doesn't bake up as high as regular cakes so you end up with a nice, compact piece of cake that no one feels bad about eating because it's small. The cake is sweet, but not too sweet. And of course, you're not adding oil and eggs to the batter, so you're saving a few calories. And saving calories in the cake leaves more calories to "spend" on wine, which is wonderfully convenient because this cake just happens to pair deliciously with a good pinot noir! (I told you it's perfect for parties!)
So if you're in the mood to whip up a delicious little cake filled with fall flavors, then you're only about a half hour away from chocolate pumpkin cake bliss!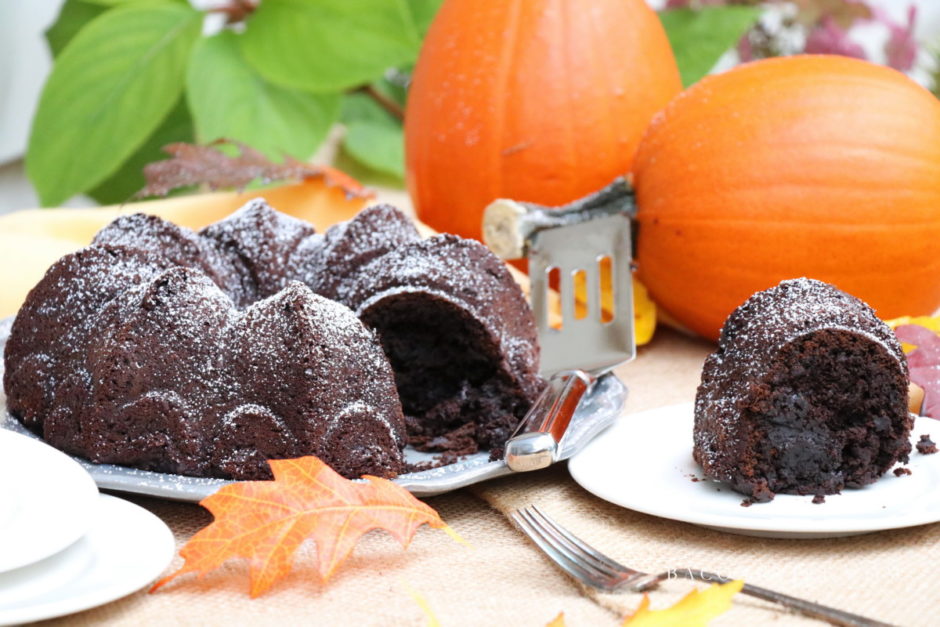 Enjoy!
Ridiculously Good Fudgy Dark Chocolate Pumpkin Cake #PumpkinWeek
This Dark Chocolate Pumpkin Cake is super easy to make - just three ingredients. You'll love the dense, rich flavor. It's a delicious paired with red wine!
Recipe from:
Michele Phillips, BaconFatte.com
Ingredients
1 dark chocolate fudge boxed cake mix (I used Duncan Hines brand)
1, 15 ounce can pumpkin puree* (I used Libby's brand)
½ cup semi sweet mini chocolate chips (I used Nestles Toll House)
Powdered sugar for garnish (optional)
Preparation
Preheat oven to 350 degrees F.
Prepare a 10 cup bundt pan with baking spray or butter and flour
Add cake mix, pumpkin puree, and mini chocolate chips to a bowl, and stir with a spatula until completely combined.
Pour batter into prepared bundt pan and smooth to level.
Bake for 20 – 30 minutes*, or until a toothpick inserted into the cake comes out fairly clean.
Cool in the pan for 15 minutes, then invert cake onto serving plate and allow to cool completely.
Sprinkle with powdered sugar to serve (optional).
Cook's Notes:
*If you're using a dark or coated cake pan, you may need to bake it for a few extra minutes.
*I check my cake after 20 minutes, and again at 25, etc., until it's ready.
*Please note that the testing toothpick will not be completely clean when you test because of the chocolate chips. Just bake until the batter no longer sticks to the toothpick.
About #PumpkinWeek
#PumpkinWeek is a virtual event in which a group of food bloggers come together to create a bunch of delicious recipes featuring a specific ingredient. In this case, pumpkin is the star of the show just as we all start to get into the fall spirit. This 2017 event is coordinated by Terri from Love and Confections, and it goes from October 2 – 6. There are all kinds of recipes from sweet to savory, and they all feature pumpkin! You can find and share our #PumpkinWeek recipes online by searching the hashtag on Facebook, Instagram, Twitter, etc.
Here are today's #PumpkinWeek recipes… Enjoy!
Pumpkin Drink Recipes:
Pumpkin Pie Moscow Mule from Love and Confections.
 Savory Pumpkin Recipes:
Chicken Enchiladas with Pumpkin Sauce from Hardly A Goddess.
Goat Cheese and Sage Pizza with Pumpkin Crust from The Spiffy Cookie.
Kaddo Bowrani (Afghan Pumpkin with Yoghurt Sauce) from Caroline's Cooking.
Pickled Pumpkin with Sage and Autumn Spices from Culinary Adventures with Camilla.
Pumpkin Beer Bread from Forking Up.
Pumpkin Beer Cheese Soup with Herbed Croutons from The Crumby Kitchen.
Pumpkin Chili from A Kitchen Hoor's Adventures.
Pumpkin Corn Chowder with Shrimp from Kudos Kitchen by Renee.
Pumpkin Focaccia Bread from Cookaholic Wife.
Pumpkin Ravioli with Parmesan Sage Cream Sauce from Rants From My Crazy Kitchen.
Pumpkin Rosemary Hummus with Sizzled Garlic from Amy's Cooking Adventures.
Pumpkin Stew with Chicken and Black Beans from Palatable Pastime.
Sweet Pumpkin Recipes:
Brown Butter Pumpkin Oatmeal Cookies from The Redhead Baker.
Cheesecake Stuffed Pumpkin Bundt Cake from Cooking with Carlee.
Easy Pumpkin Pie Cheesecake from Daily Dish Recipes.
Jumbo Pumpkin Spice Muffins with Pecan Streusel Topping from Family Around The Table.
Pumpkin Blondies from It Bakes Me Happy.
Pumpkin Cheesecake Bars from The Bitter Side of Sweet.
Pumpkin Coffee Cake from The Chef Next Door.
Pumpkin Cranberry Oatmeal Bars from The Nifty Foodie.
Pumpkin Madeleines from Mildly Meandering.
Pumpkin Pie Energy Bites from Making Miracles.
Pumpkin Pie Oatmeal from Seduction in the Kitchen.
Pumpkin Pie Tassies from Cindy's Recipes and Writings.
Pumpkin Scones from The Freshman Cook.
Pumpkin Spice Donuts from A Day in the Life on the Farm.
Pumpkin Spice Donuts from Hezzi-D's Books and Cooks.
Pumpkin Zucchini Streusel Bread from An Affair from the Heart.
Ridiculously Good Dark Chocolate Pumpkin Cake from Bacon Fatte.
Want even more pumpkin recipes?
Check out over 500 sweet, savory and delicious recipes
on the Bacon Fatte Pumpkin Love board on Pinterest!