If we've known each other for a while, you know I have a fondness for seafood. Grilled shrimp and really good Classic Shrimp Cocktail are both right up on top of my list of faves.
The shrimp has to be super fresh and (of course) prepared well. If cleaned right away and properly handled prior to serving, the light, sweet flavor of fresh shrimp is second to none. They're so easy to prepare once you get the hang of it, and the recipe possibilities are literally endless.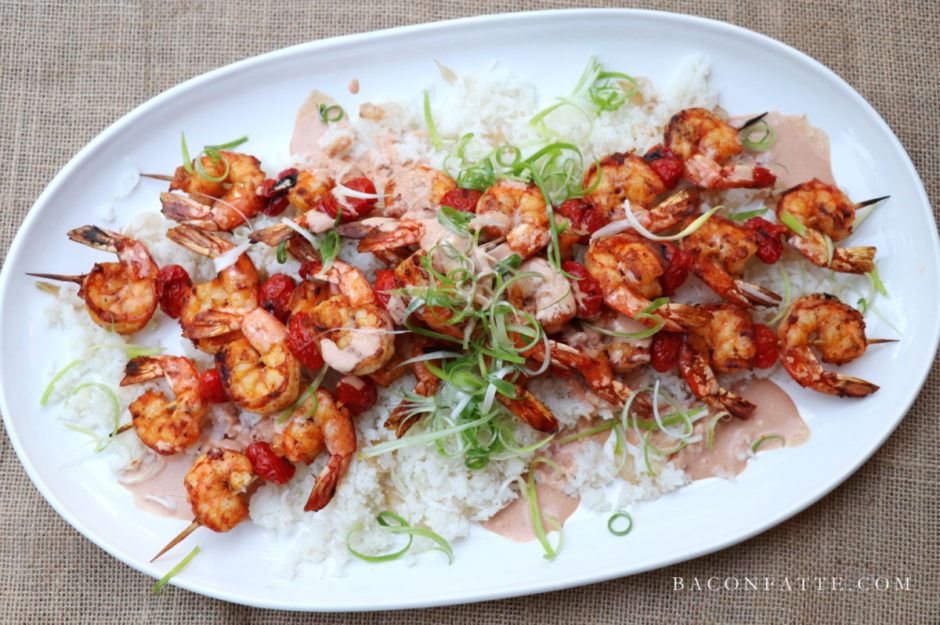 This grilled shrimp recipe is variation on shrimp cocktail, and it can be served the same way. But… We've enjoyed it so much as an appetizer, I turned it into an entrée. It's a gorgeous way to serve grilled shrimp Family Style, and it's perfect for summertime entertaining.
Grilled Shrimp Skewers with Marie Rose Sauce stands beautifully on its own as a main course. It also compliments a surf-n-turf spread perfectly because the Marie Rose sauce is also wonderful with beef.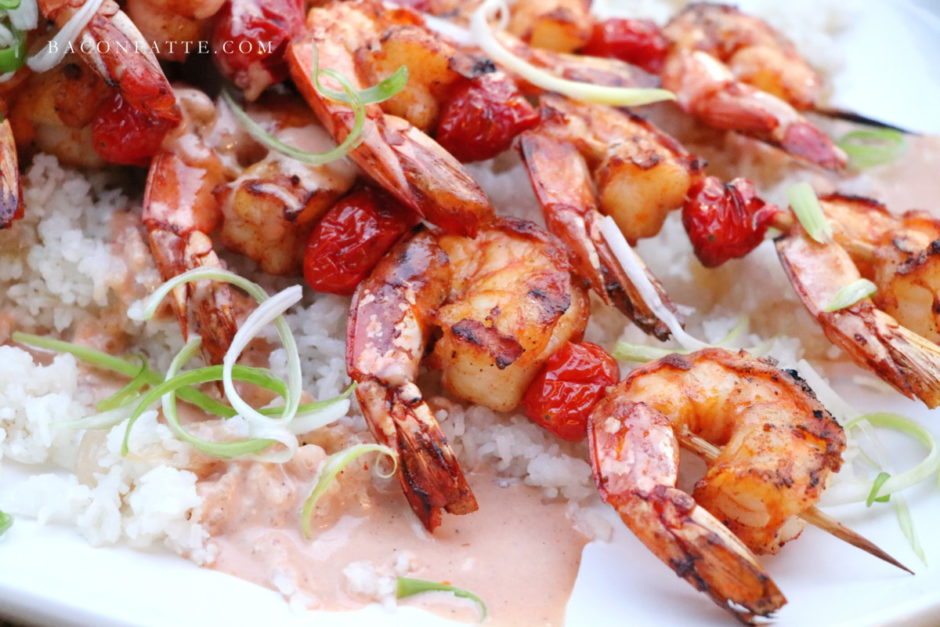 If you haven't heard of Marie Rose Sauce before – as I hadn't prior to making this – it's a classic sauce said to have been created by a British chef back in the '60s.
Marie Rose sauce is perfect with grilled shrimp because it's balances creamy, tangy flavors with a touch of heat and a perfectly boozy little kick.
Although we never have any sauce leftover when we make this grilled shrimp recipe, I can imagine that Marie Rose sauce would be wonderful on roast beef sandwiches and fish tacos alike. Go ahead and dip fresh veggies in it, and drizzle it over avocado toast or over eggs and hash… It's delish with just about anything.
But it's most delish with grilled shrimp!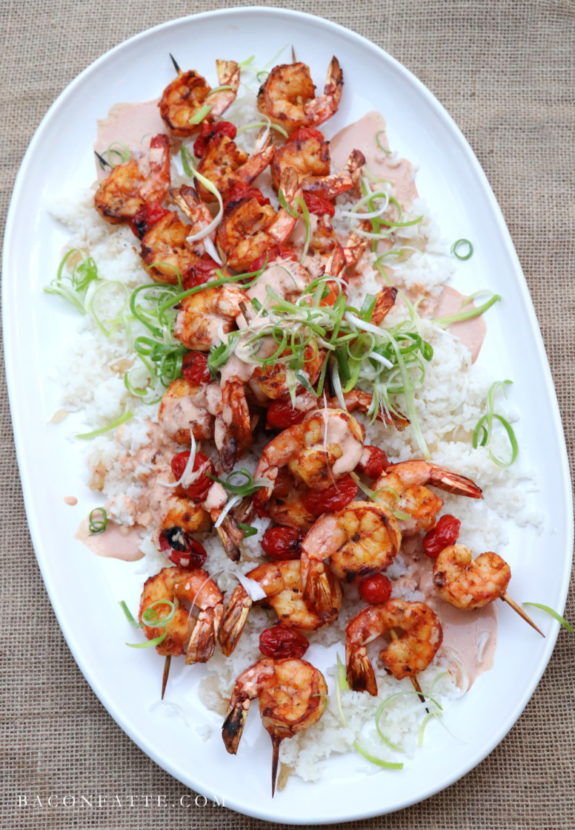 How Much Grilled Shrimp Should You Make?
The recipe calls for two pounds of fresh shrimp, and it can very easily be halved or doubled as needed. While shrimp in general is widely available, the sizes available often differ. How you serve it may differ, too, so here's a little guide to help determine how many shrimp to purchase and how many to place on each skewer.
I used "U15" shrimp here. Shrimp are typically sold by count, so U15 means there should be about 15 shrimp per pound. Shrimp this size is generally considered to be Large, but every market will label them differently so it's best to purchase by count versus a specific size. Please keep that in mind and plan accordingly if you're using shrimp of a different size.
Depending on the size and heartiness of other course(s) that you're serving:
For an entrée: serve 6 – 8 large shrimp per person
For an appetizer or second course: serve 3 – 4 large shrimp per person
As far as how to properly cook grilled shrimp, I've included lots of notes below to help avoid tough, dry, overcooked shrimp. It's hard to offer specific grilling techniques since we all have different types of grills. Each grill cooks differently at different temperatures, and no one knows our grill like we do. So, if you haven't grilled shrimp before, just look for the tell-tale signs of doneness: The shrimp with turn opaque white with pink "highlights" as they cook. Just a few minutes on the grill – with a little flip in the middle – is all they need.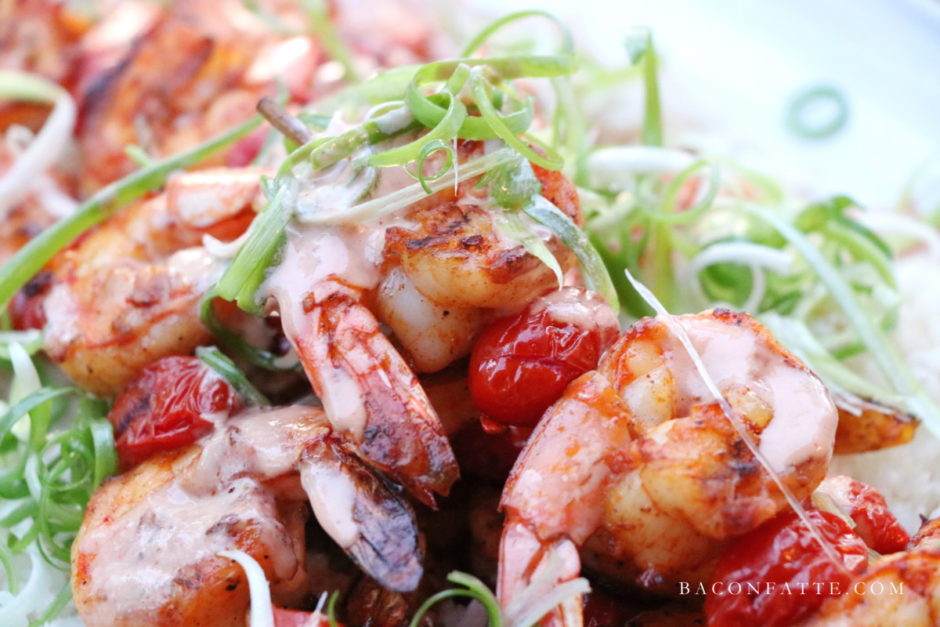 One last thing: Go ahead and eat these fabulous grilled shrimp and cherry tomatoes with your hands, and don't be afraid to lick your fingers after you devour each one.
Enjoy!
Grilled Shrimp Skewers with Marie Rose Sauce
This recipe for Grilled Shrimp Skewers with Marie Rose Sauce will be your new summertime favorite! Prepare as main course, as part of a Surf-n-Turf dinner, or as a delicious appetizer.
Recipe from:
Michele Phillips, BaconFatte.com
Ingredients
For the sauce:
½ cup mayonnaise
¼ cup ketchup
3 tablespoons brandy
2 tablespoons fresh lemon juice
1 teaspoon Sriracha or other hot sauce
1 teaspoon Worcestershire
¼ teaspoon ground black pepper
Kosher salt, to taste
For the Shrimp Skewers:
7 - 10, 12" wooden skewers, soaked*
2 tablespoons light olive or canola oil
1 teaspoon smoked paprika
½ teaspoon Kosher salt
½ teaspoon ground black pepper
2 pounds large shrimp (about 30 "U15" shrimp) – cleaned, tails on
30+ cherry tomatoes
For the Rice:
2 cups uncooked rice (I used a combination of brown and basmati)
3 tablespoons light olive or canola oil
½ cup brandy
1 teaspoon raw sugar
¼ teaspoon Kosher salt
1½ cups frozen pearl onions – about 45 – thawed and halved
For the Garnish:
Thinly sliced scallions or micro greens – optional, but very pretty
Preparation
For the Sauce:
In a small glass mixing bowl, add mayonnaise, ketchup, brandy, lemon juice, Sriracha, Worcestershire, and pepper. Stir well. Taste, and add salt if needed. Refrigerate (covered) until ready to serve.
For the Rice:
Prepare two cups of dry rice – such as brown or basmati - per directions on package.
In a lidded pan over medium-low heat, add the oil, brandy, sugar, and salt, and stir well. Cut pearl onions in half, and add them to the pan. Sautee onions for 10 - 15 minutes until about half of the liquid is gone and onions are lightly caramelized. Add cooked rice, and stir well. Cover pan and keep rice warm until serving.
For the Shrimp:
Soak the wooden skewers and clean (peel and devein) the shrimp.
Prepare the marinade. In a medium-sized glass bowl, add the oil, paprika, salt, and pepper, and stir well. Add cleaned shrimp and cherry tomatoes, and stir to make sure everything is evenly coated. Refrigerate for 10 minutes, then remove from refrigerator and stir again before skewering.
Prepare grill to medium-high heat.
Skewer the marinated shrimp – tail end first, then head end. Then add a cherry tomato between each shrimp, and one on each end. Repeat with two or three more shrimp per skewer, making sure not to skewer the shrimp too tightly so they cook evenly.
Place skewers on prepared grill. Do not crowd or overlap skewers. Grill for 2 – 3 minutes, then flip and cook for 1 – 2 minutes more just until cooked through. Shrimp should be opaque and firm with a light pink color and internal temperature of 120°. Overcooked shrimp will curl tightly and have a tough, dry (versus tender, juicy) texture.
To Serve:
Spoon rice mixture onto a platter. Place cooked shrimp skewers on top of rice. Drizzle shrimp and rice with Marie Rose sauce, garnish, and serve immediately.
Cook's Notes:
*Soak wooden skewers in water for a minimum of two hours - or overnight, if possible - before using. This is definitely something to do ahead the day before if you're entertaining.
*The shrimp marinade and Marie Rose sauce can be made a day ahead and kept covered in the refrigerator.
*Clean shrimp as soon as possible after purchase for freshest flavor. Refrigerate in a tightly covered glass bowl until ready to marinate, skewer and grill.
*If you want to get fancy with the sauce, place it in a squeeze bottle for better control when drizzling.
*Marie Rose sauce can also be served on the side in a small bowl with a spoon, or in individual bowls.
Recipe adapted from
Chowhound
.
If you make this Grilled Shrimp Skewers with Marie Rose Sauce recipe, I'd love to know!
Feel free to leave a note here on the blog in the comments below, or share your creations on Facebook, Pinterest, Instagram, Twitter, and/or Google+ .
Make sure to hashtag #baconfatte or tag @baconfatte in your social media posts!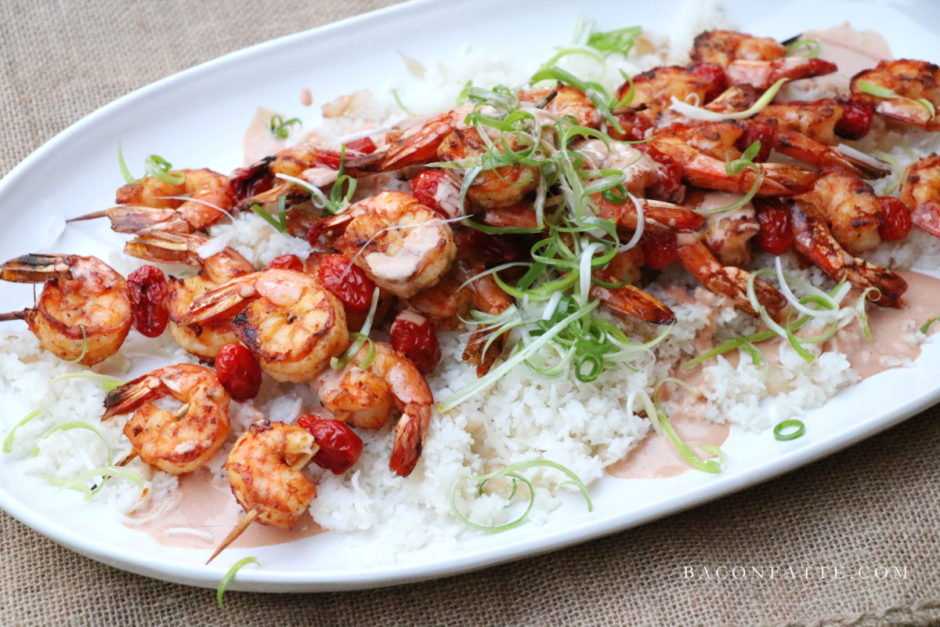 Family Style fabulousness!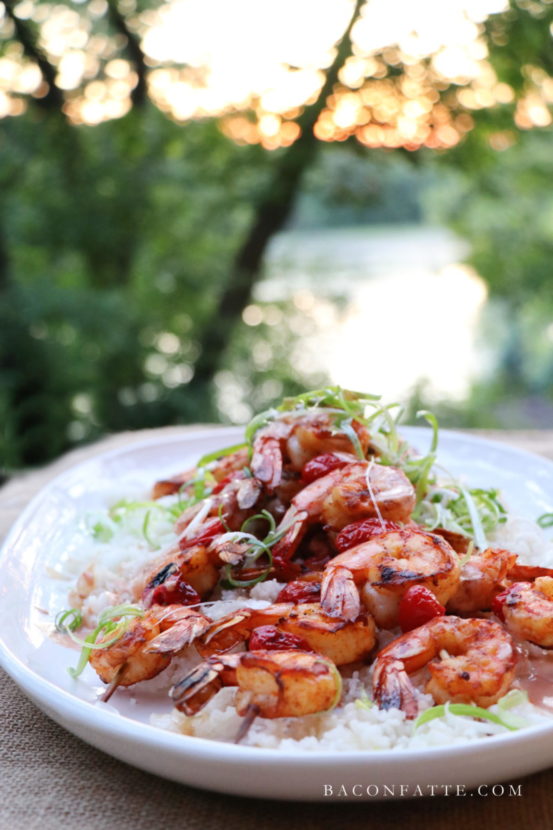 Serious summertime fare!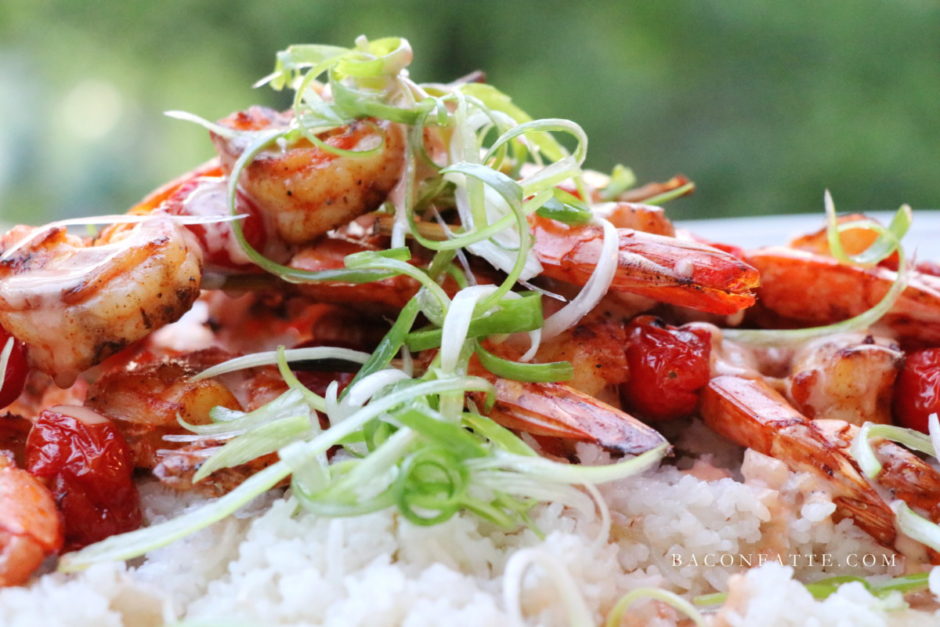 That garnish, tho!
xo