Mexican Wedding Cookies are one of my all-time favorites! They're a classic cookie – simple shortbread bites studded with nuts and kissed with sugar. They're the perfect sweet treat any time of year, but they're always a welcome addition to holiday cookie trays.
Mexican Wedding Cookies hold lots of childhood memories for me. I fell in love with them early on, and remember enjoying them often at big family get-togethers during the holidays. Because they're such a traditional holiday cookie, they're usually one of the first I think of when holiday baking season starts.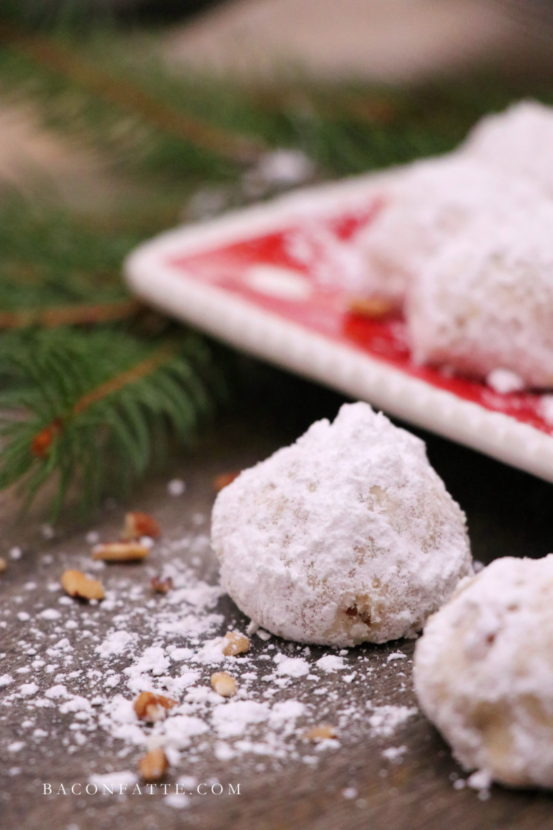 Here's The Story
For whatever reason, I haven't made Mexican Wedding Cookies for several years. Probably because my cookie baking wish list is so long, I have a hard time choosing where to begin each year. Fortunately, for me, my blogging buddies keep me focused. (Sometimes.)
I belong to several food blogger groups. They each have their own focus and personality, and they're all inspiring for a variety of reasons. I'm so glad to have the opportunity to connect with the wonderfully creative spirits in these groups. Especially around the holidays!
Nothing gets me in the holiday spirit more than baking cookies, and this is the time of year when many food bloggers get together to bake up a storm in celebration of the season.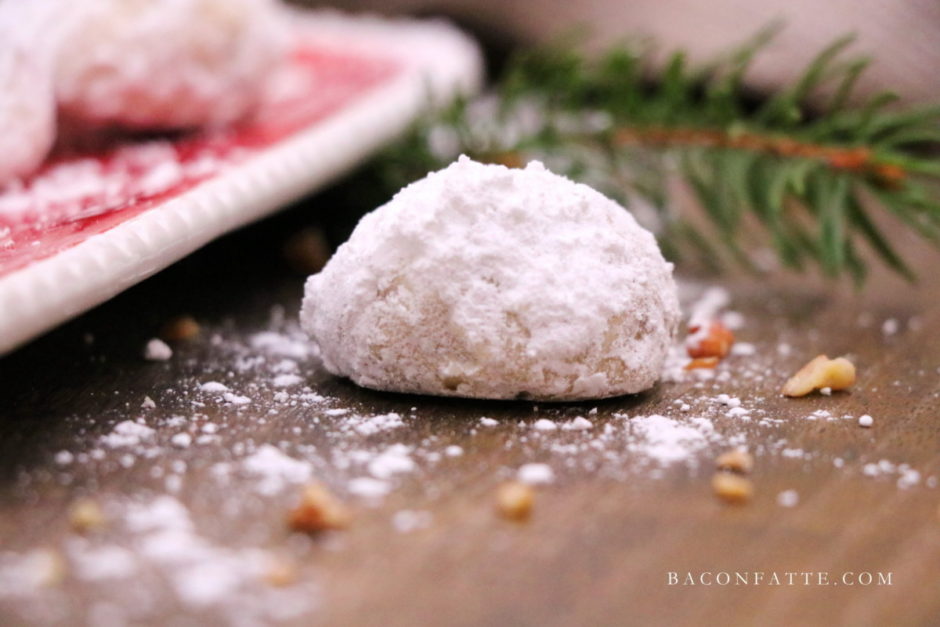 This year, I'm participating in the Freaky Friday Virtual Holiday Cookie Exchange. It's a blog-related event coordinated by Michaela, the lovely, lively, creative force behind An Affair From The Heart.

For this event, we're assigned to another blogger. Everything is kept a secret until the day of the exchange, but until then, we get to peruse our assigned blogger's blog and get to know them better through their recipes. Specifically, their cookie recipes!
We get to choose one of their cookie recipes to make for the cookie exchange. I had the good fortune of being assigned to Sandra's blog – The Foodie Affair.
What's To Love about 'The Foodie Affair'
Sanndra's recipes are easy to follow, and are often lighter, healthier versions of classic dishes. One of her recent recipes for Cheesy Mushroom Casserole is calling my name… I've just got to make it soon! I'm also looking forward to trying her Sicilian Chicken Sausage Stuffed Acorn Squash. Doesn't it sound wonderful?
Sandra's savory recipes offer plenty of variety, and so does her cookie recipe collection! She's got all kinds of recipes like Lemon Thumbprints, Sugar-Free Peanut Butter and Flourless Peanut Butter Cookies, Macadamia Cranberry White Chocolate Cookies, and dozens of others!
The one that immediately caught my eye, of course, was her Mexican Wedding Cookies!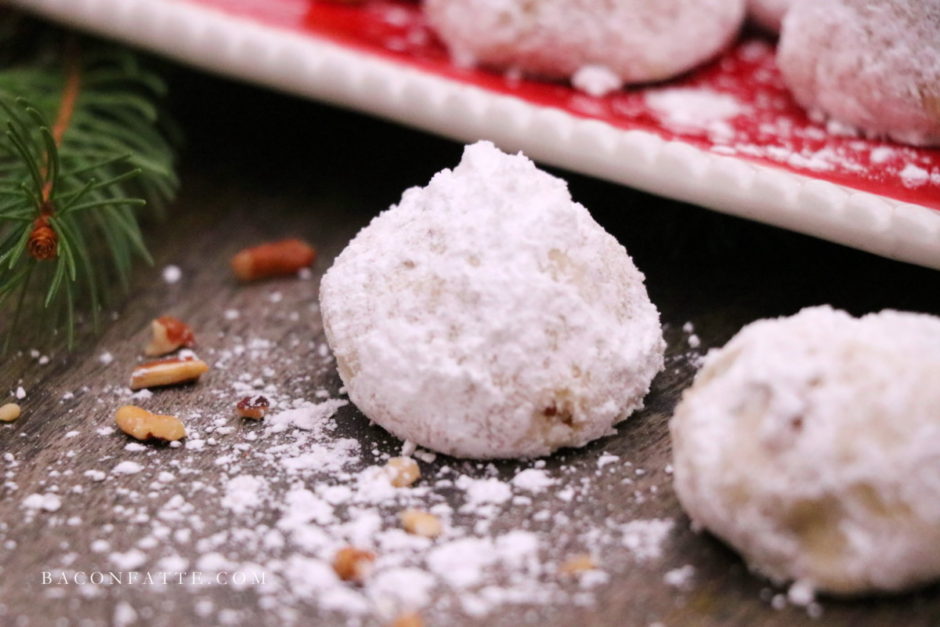 I happened to have everything on hand, and the recipe came together quickly and easily. Just another reminder that Mexican Wedding Cookies are a classic for a reason… They're absolutely delicious, of course, but they're also a snap to make. The smooth, melt-in-your-mouth shortbread is studded with lots of crunchy pecans, and the delicate powdered sugar coating adds the perfect touch of sweetness to pull it all together.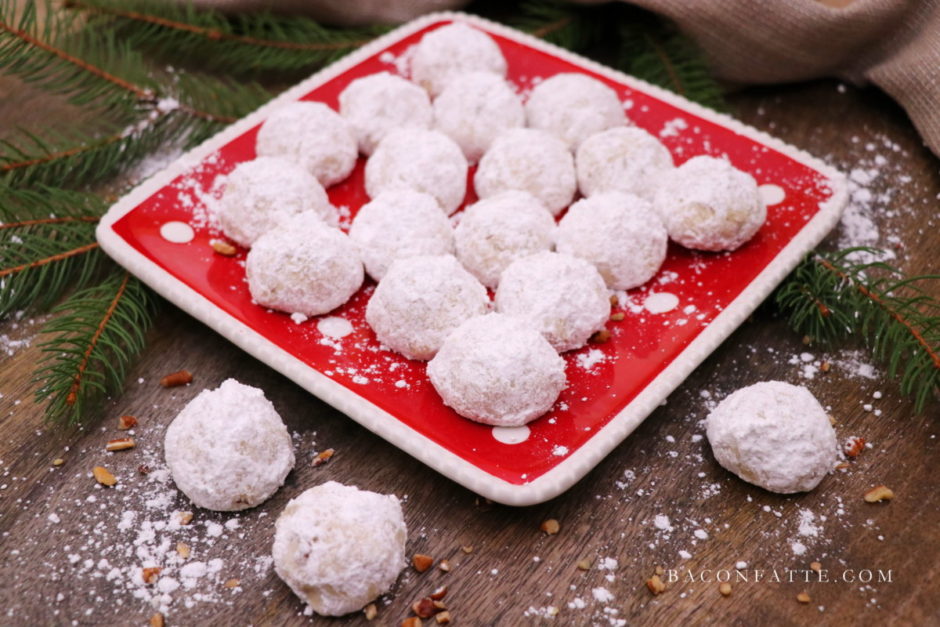 What You'll Need
Butter
Powdered sugar
Vanilla extract
AP flour
Salt
Pecans (or walnuts)
Two cookie sheets
Parchment paper
A small cookie scoop (approx. 1 Tablespoon in size), optional
If not for this virtual cookie event, I may have gone yet another year without enjoying my favorite Mexican Wedding Cookies. Thanks to Sandra's recipe, that's not the case. And now YOU can whip up a batch of your own Mexican Wedding Cookies, too! They're perfectly share-able, and they can sit on your counter (in an air-tight container) for up to a week. They probably won't last that long, but now that you have this wonderfully easy recipe, you can whip up another batch in no time – to share, or not to share… That is your option!
P.S… There are many more cookie recipes below to add to your holiday baking list!
Enjoy!
Mexican Wedding Cookies - a classic holiday tradition
Mexican Wedding Cookies are a classic for a reason… They're absolutely delicious and they're a snap to make. The melt-in-your-mouth shortbread is studded with crunchy pecans, and the delicate powdered sugar coating adds the perfect touch of sweetness.
Recipe from:
Michele Phillips, BaconFatte.com
Ingredients
1 cup butter, softened
1¾ cup powdered sugar, divided (1/4 cup for dough + 1½ cups for coating)
2 teaspoons vanilla extract
2 cups unbleached all-purpose flour
¼ teaspoon salt
1 cup pecans (or walnuts), finely chopped
Preparation
Pre-heat oven to 300 degrees.
Line two baking pans with parchment paper and set aside.
In a large mixing bowl, add the butter and ¼ cup sugar and beat until creamy. Scrape down the sides of the bowl with a spatula. Add vanilla, salt and flour and beat just until combined. Add the pecans (or walnuts, if using), and fold into the dough until evenly distributed.
Using a small cookie scoop (about 1 Tablespoon size), scoop the dough into balls and place on prepared baking sheets. Bake for 15 - 20 minutes – just until the dough is set and the bottoms are barely beginning to brown.
Remove pans from oven and allow to cool for a few minutes.
Pour the remaining 1½ cups of powdered sugar into a small bowl. While cookies are still slightly warm, gently toss each cookie in the powdered sugar. Use a small fork to remove cookies from powdered sugar bowl and place them back on the cookie sheet to cool completely and set.
Store at room temperature in an air tight container for up to one week, or freeze in a freezer safe container for up to one month.
Cook's Notes:
*These Mexican Wedding Cookies don't spread or flatten out much when baking, so you can easily fit about 20 dough balls on each cookie sheet (depending on size of cookie scoop), without worrying about them spreading into each other.
Recipe from
The Foodie Affair
Looking for more holiday cookie recipes? Here are all kinds of delicious options for you from this amazing holiday cookie blog hop group!
An Affair from the Heart – Mocha Rum Balls
A Dish of Daily Life – Cherry Pie Cookies
A Kitchen Hoor's Adventures – Black Forest Rum Balls
Bacon Fatte – Mexican Wedding Cookies
The Devilish Dish – Rosé Meringue Cookies
The Foodie Affair – No Bake Cookie ~ Copycat Samoas
Full Belly Sisters – Chocolate Peanut Butter Cookies
Hostess at Heart – Chocolate Caramel Cookie Bars
LeMoine Family Kitchen – Chocolate Chip Cookie Dippers
Life Currents – Oatmeal Sandwich Cookies
Mildly Meandering – Vanilla Bean Pizzelle Cookies
Pic Nic – Lemon and Blueberry Bars
Plattertalk – White Chocolate Peppermint Cookies
Take Two Tapas – Savory Pecan Cornmeal Biscotti Bites
Seduction in the Kitchen – Orange Snowball Cookies
Who Needs a Cape? – Almond Raspberry Thumbprints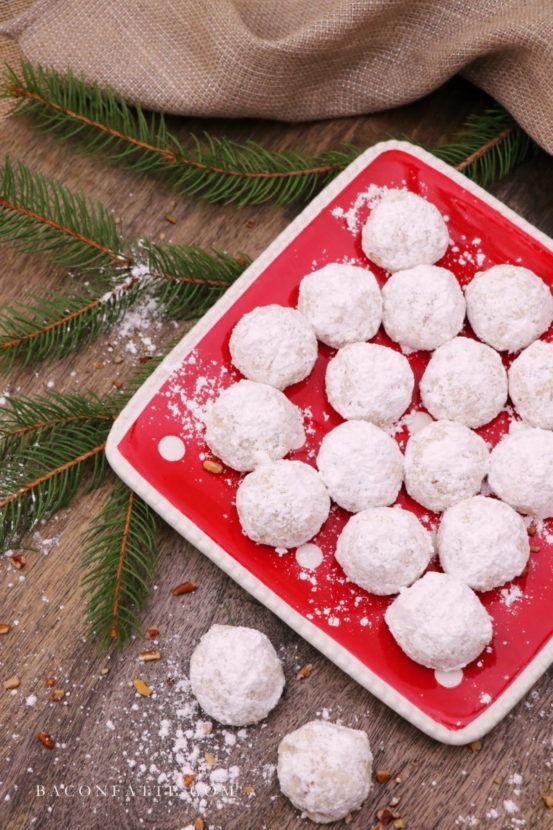 Making these Mexican Wedding Cookies?
I'd love to hear about it!
Leave a note here on the blog in the comments below, or share your creations and ideas on Facebook, Pinterest, Instagram, Twitter, and/or Google+ .
Make sure to hashtag #baconfatte or tag @baconfatte in your social media posts!