When it's cold outside, something like this Rustic Pork, Bean and Vegetable Stew is just the thing we need to warm us up inside.
Even if you don't live here in Minnesota where this recipe originated a few winters back, you can appreciate this kind of good, old fashioned comfort food. It's the kind of thing you want to ladle into a big mug and then grab a spoon and snuggle into a big blanket by a warm fire to eat.
And because this is a "big batch" recipe, you can also appreciate how wonderful it is to grab some out of the freezer and warm it up for a quick lunch or a nice, hot dinner when neither time or culinary inspiration are on your side.
It's made my favorite way… The way my mother makes things: A little of this, and a little of that, until it looks and tastes good. I grew up with that style of cooking, and I'll always appreciate it for its ease and adaptability. I use a combination of canned, frozen and fresh ingredients, and the combination changes just about every time I make it based on what I have on hand.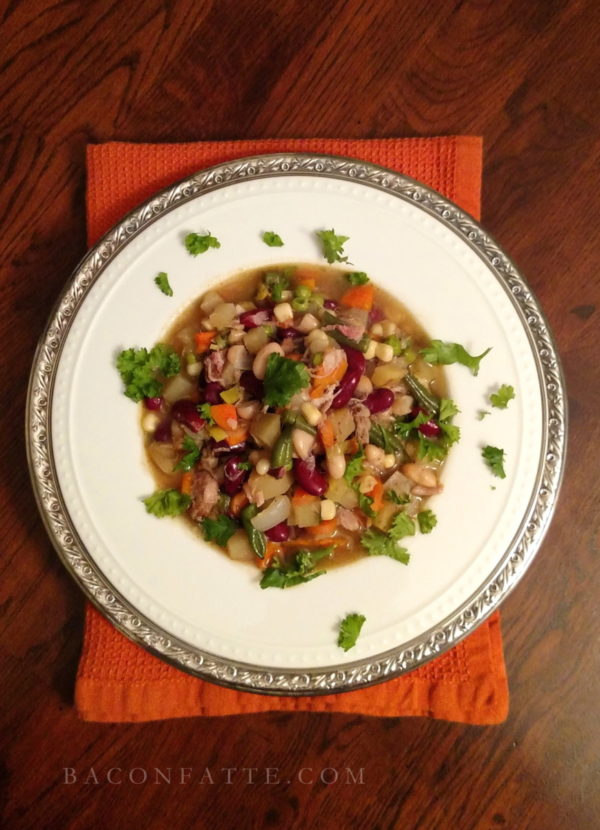 A hearty vegetable stew like this one is the perfect way to use up the leftover holiday ham – or turkey, or whatever kinds of things you happen to end up with after your holidays. If you'd rather make it meatless, just add mushrooms or other veggies. As you might guess, this vegetable stew likes having more veggies. And so should you. (Your mother would totally agree!)
Use what you want. Change up the varieties of beans. Include a hand full of chopped greens. Toss in a handful of cooked wild rice. Do what you will. It's your vegetable stew. And even if you don't happen to have the time to enjoy it by the fireplace with a blanket wrapped around your shoulders, I hope it warms your spirits just the same.
Enjoy!
Rustic Pork, Bean and Vegetable Stew
Recipe from:
Michele Phillips, BaconFatte.com
Cuisine:
Soups, Stews, Chowders & Chili
Ingredients
3 tablespoons olive oil
4 cups waxy potatoes, cubed
2 cups carrots, chopped
3 small leeks - white and light green parts only, thinly sliced
2 cups cooked pork or ham, pulled or chopped
2, 15.5 ounce cans white beans with liquid
1, 15.5 ounce can red kidney beans with liquid
2 cups frozen corn kernels
1 cup frozen peas
1 cup fresh green beans, chopped
5 cups (32 ounces) low sodium chicken or vegetable stock
2 bay leaves
3 cloves garlic, finely chopped or 1 teaspoon garlic powder
4 fresh sage leaves, finely chopped or 1 teaspoon ground sage
Salt and fresh cracked black pepper to taste
Fresh parsley for garnish, optional
Preparation
In a large, lidded soup pot, add the olive oil, cubed potatoes, chopped carrots, and sauté over medium heat until vegetables begin to soften – about 10 minutes. Add sliced leeks, and sauté for another five minutes.
Add the cooked pork, white and kidney beans with liquid, corn kernels, peas, green beans, chicken or vegetable stock, bay leaves, garlic, and sage, and stir well to combine ingredients.
Simmer (partially covered) over medium-high heat for 30 – 45 minutes, stirring every 15 minutes. Then, reduce heat to medium-low and simmer (partially covered) for an additional 30 – 45 minutes, stirring every 15 minutes. Remove pot from heat when vegetables are tender, all flavors have combined, and the stock has cooked down and thickened. Add salt and pepper to taste, garnish if you wish, and enjoy.
Refrigerate in a covered container for up to two days, or freeze for up to two months.
Cook's Notes:
*If you prefer to make a vegetarian version of this soup, just add two more cans of beans (i.e, butter beans) in place the pork.

*Whether or not you peel your potatoes and carrots is up to you. I usually scrub them really well and remove any blemishes, but keep the peels on.

*Use any kind of beans you like. If using black beans, however, drain and rinse them first. Adding the liquid from a can of black beans will turn the stew "muddy".

*Remember to remove the bay leaves when serving.

*If freezing, use freezer safe zipper bags or lidded containers.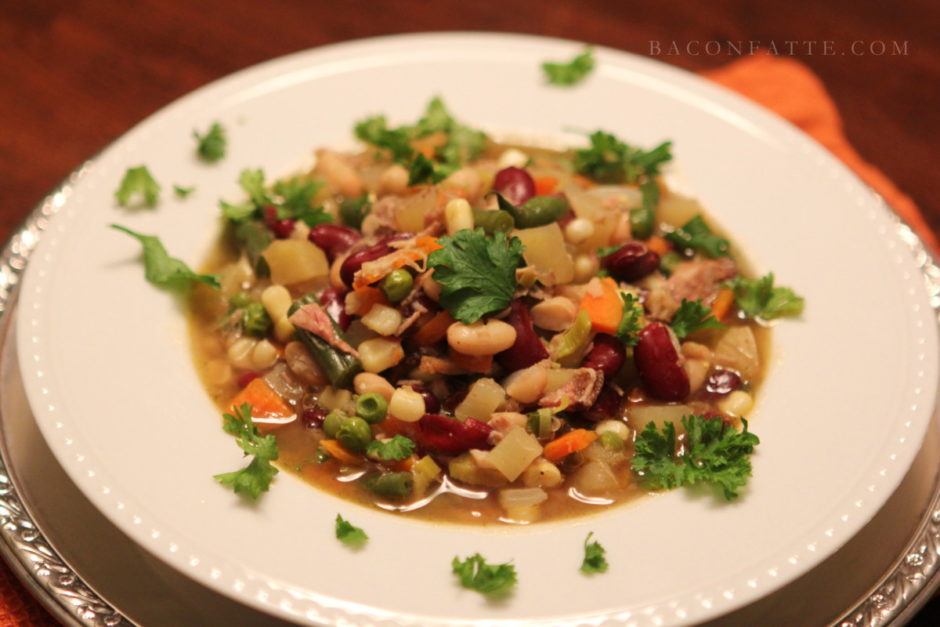 Rustic Pork Bean and Vegetable Stew
I would LOVE to know what you think of this recipe when you try it!
Feel free to leave a note here on the blog in the comments below, or share your creations on Facebook, Pinterest, Instagram, Twitter, and/or Google+ .
Make sure to hashtag #baconfatte or tag @baconfatte in your social media posts!