These Spiced Pumpkin Mini Cakes are moist and aromatic with lots of pumpkin flavor punctuated by brandy and brown butter infused dried cranberries and delicious toasted walnuts. They are, as my husband said after he took his first bite, "like Thanksgiving in your mouth."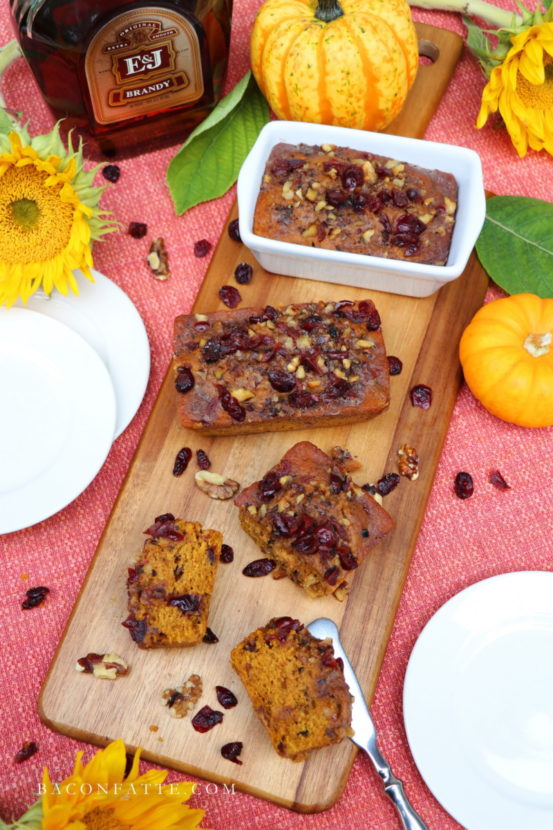 Here in the Midwest, we live for the change of seasons but we do tend to grumble as our short-lived summer days begin to shorten. The leaves start changing colors all too soon, and the temperatures begin to drop before we even know what's hitting us.
One of our favorite coping mechanisms is the celebration of all things pumpkin – and I know we're not alone in that tradition.
There are few things as divine as the first bite of tender spiced pumpkin cake fresh out of the oven. It's hard to rue any day in which the fragrance of warm spices waft through the house. Fall is what it is, and if you're set on making the best of it, then these spiced pumpkin mini cakes are a heck of a good way to start.
The "magic" of these little cakes – beyond the incredible flavor – lies in their melt-in-your-mouth texture. And, like we add layers of clothing to our fall outfits, we've added layers of flavor and texture to these cakes to dress them up a bit.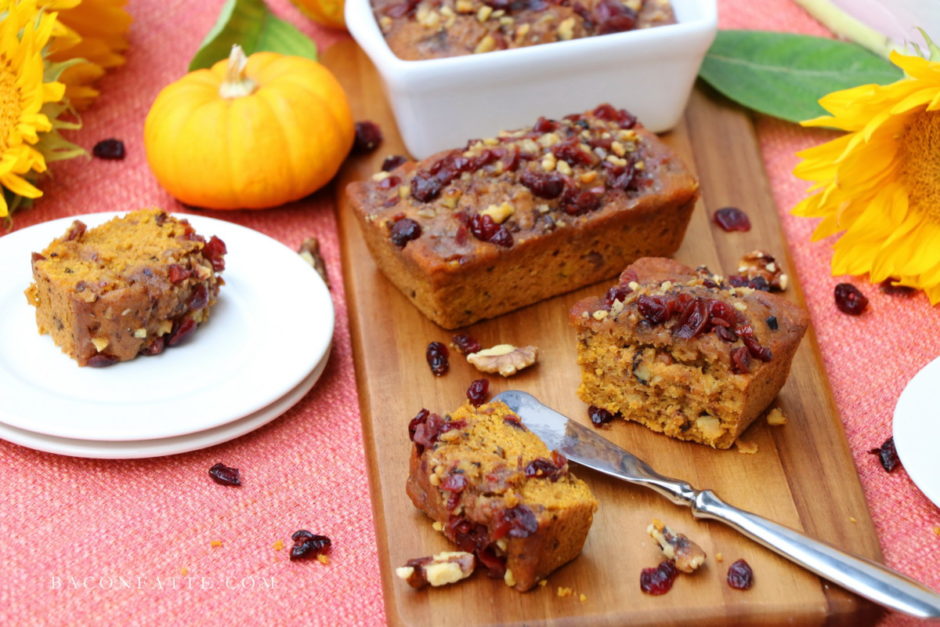 Infusing – or "mulling" – dried cranberries in brown butter and brandy softens and plumps them while adding a deliciously warm, boozy undertone. Toasting the walnuts adds yet another warm layer to the spiced pumpkin mix, and just like mulling the cranberries, it's very much worth the effort.
Anytime cakes and breads are topped with nuts, berries and glazes, they feel more festive. Pretty toppings also make things even more irresistible, so what better time to pull out all the stops? Make this the cake you bake to welcome fall, and then keep the recipe handy for holiday entertaining. These pretty little spiced pumpkin cakes also make wonderful gifts so why not bake up a little extra holiday cheer for friends and family this year?
Enjoy!

Spiced Pumpkin Mini Cakes with Mulled Cranberries and Brandy Brown Butter Glaze #PumpkinWeek
Spiced Pumpkin Mini Cakes are melt-in-your-mouth tender and deliciously layered with the flavors and textures of fall. Perfect for entertaining and gifting!
Recipe from:
Michele Phillips, BaconFatte.com
Cuisine:
Sweets & Desserts
Ingredients
1-2/3 cups all-purpose unbleached flour
1 cup granulated sugar
1 teaspoon baking soda
1 teaspoon ground cinnamon
¾ teaspoon salt
½ teaspoon baking powder
½ teaspoon ground nutmeg
½ teaspoon ground ginger
¼ teaspoon ground cloves
1 cup canned pumpkin
2 large eggs
½ cup canola oil
½ cup water
½ cup walnuts, toasted and finely chopped
½ cup dried cranberries, chopped
¼ cup salted butter
2 tablespoons brown sugar
½ cup + 1 ounce brandy – divided
Preparation
Preheat oven to 350°.
Prepare six mini loaf pans (approx. 3.5 x 5.5") by coating the insides with butter and flour or baking spray, and set aside.
In a small skillet, toast the walnuts over medium heat just until they become fragrant – about 5 – 7 minutes. Transfer toasted nuts to a small glass bowl, and set aside.
Next, in the same small skillet, brown the butter* over medium-low heat - stirring often. When the butter is lightly browned, carefully add the chopped cranberries and ½ cup of brandy. Stir often, and continue to cook until liquid reduces to a syrup-like consistency and cranberry pieces are plump.
Transfer mulled cranberries to a small glass bowl using a fork to strain them, leaving most of the brown butter and brandy "sauce" in the skillet. Set skillet aside to keep warm on stovetop.
In a large bowl, add all the dry ingredients and whisk together to combine.
In a smaller bowl, add the pumpkin, eggs, oil and water, and whisk together to combine.
Pour combined wet ingredients into combined dry ingredients, and stir together until incorporated. Add half of the walnuts and cranberries (reserve the other half to top the loaves), and fold them into the batter.
Measure a generous ½ cup into each prepared mini loaf pan. Spoon any extra batter equally into pans, and smooth the top of the batter. Sprinkle the reserved walnuts and cranberries on top of each loaf, then bake for 25 – 30 minutes. To avoid over-baking, use a toothpick to test the loaves after about 20 minutes, and gage additional bake time from there.
While the loaves are baking, add the 2 tablespoons of brown sugar and remaining 1 ounce of brandy to the skillet with the warm brown butter mixture. Simmer over low heat until the mixture again reaches a syrup-like consistency. Remove from heat, and keep warm.
We done, remove cakes from the oven and pour the brown butter brandy glaze over them. Allow them to cool in the pans for about 10 minutes, then remove them from the pans and cool completely on a wire rack.
Store in airtight containers for up to two days. Refrigerate or freeze if storing for longer periods. Serve at room temperature or, if possible, slightly warmed.
Cook's Notes:
*If you're new to browning butter,
Joy the Baker
has a great step-by-step tutorial that'll take all the guesswork out of it for you!
*If using a single, standard loaf 9 x 5" loaf pan, bake for 55-65 minutes, or until done.
*Recipe adapted from
Taste of Home
.
Making these Spiced Pumpkin Mini Cakes?
I'd love to know how you liked the recipe!
Leave a note here on the blog in the comments below, or share your creations and ideas on Facebook, Pinterest, Instagram, Twitter, and/or Google+ .
Make sure to hashtag #baconfatte or tag @baconfatte in your social media posts!