This Swiss Sauerkraut Noodle Casserole with Herbs is just another example of discovering different ways to enjoy your favorite foods.
What's To Love
The tangy kraut flavor in this sauerkraut noodle casserole is distinctive, but not in the deliciously tart way that we're used to eating it when it's piled on top of a brat, for example. The kraut flavor mellows when combined with noodles and ground beef, and it brightens the flavors of all the ingredients to create a wonderfully warm, delicious comfort food dish.
This post was sponsored by Frank's Kraut. I received compensation and product related to this post, but all opinions, and a life-long love of good kraut, are my own. I'm thrilled for the opportunity to partner with Frank's Kraut and help inspire others to create unique and delicious kraut recipes!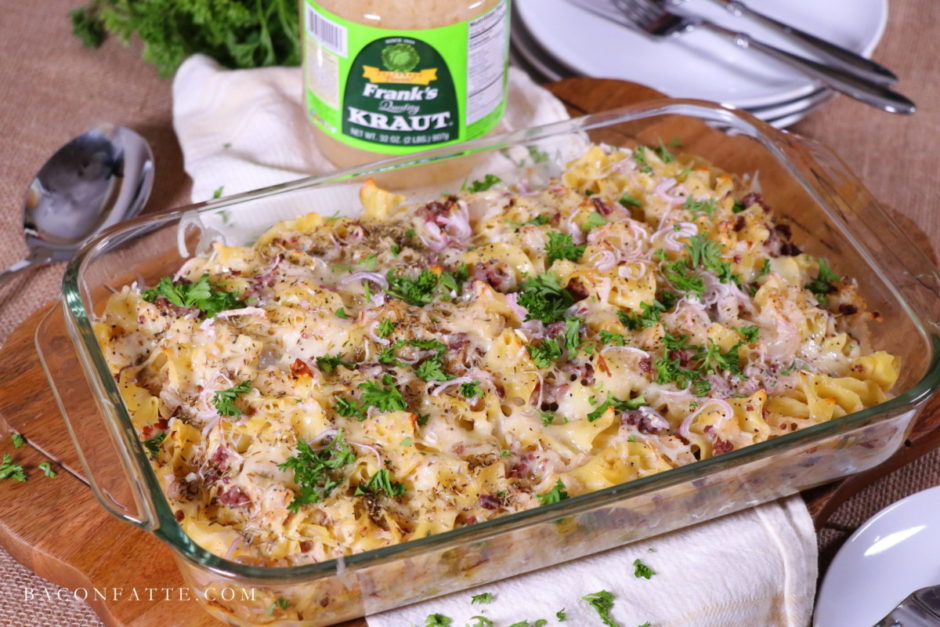 What You'll Need
Wide egg noodles
Lean ground beef
A large yellow onion
Cream of chicken soup
Freshly shredded Swiss cheese
A medium shallot
Dried thyme
Fresh parsley
Salt & freshly ground black pepper
Large skillet
Large mixing bowl
3 quart casserole dish
Here's The Story
I've been a sauerkraut fan all my life, but I've never used it in a noodle casserole (or hot dish as we like to call it here in Minnesota!). Much to my surprise – and the surprise of my kraut-loving family and friends – it's a total win!
This sauerkraut noodle casserole is hearty enough to be served as main dish, but it was also a hit over the weekend when I served it as a side dish at our Super Bowl party. Everyone loved it!
If we've known each other for a while, you know I make a lot of big batch or family style dishes. But I often want flexibility in a recipe – and I know you do too – so I like recipes that can easily be cut in half or doubled as well as dishes that are easy to make ahead for entertaining. This casserole checks all those boxes!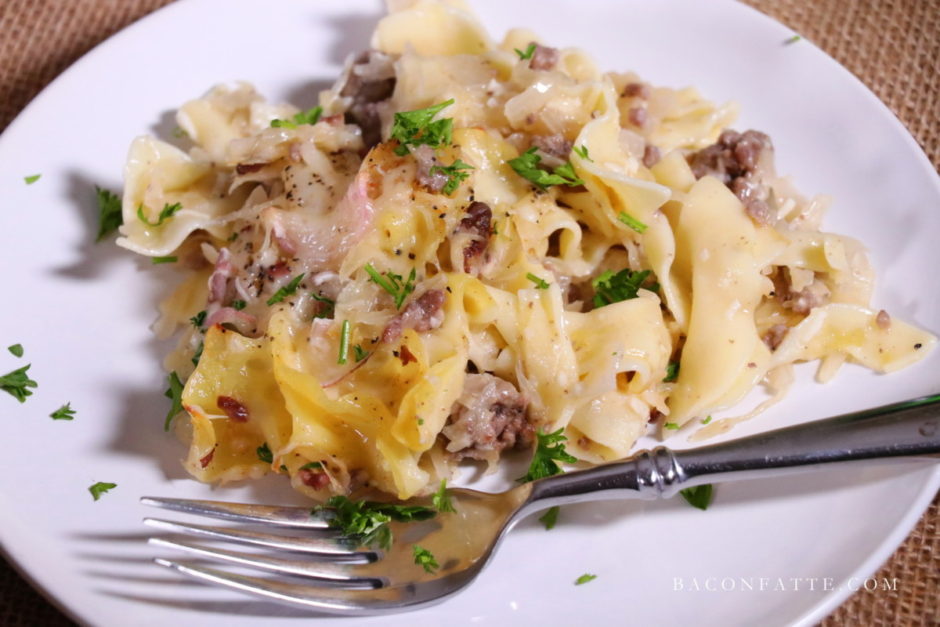 It's best warm, so if you're serving this sauerkraut noodle casserole for a party like I did this weekend, just spoon the cooked ingredients into a 12+ cup capacity crock pot (or stir cold cooked casserole into the warm as needed) to keep warm.
Enjoy!
Swiss Sauerkraut Noodle Casserole with Herbs
The tangy kraut flavor in this Swiss Sauerkraut Noodle Casserole with Herbs is distinctive, but not too tart. The flavor combines deliciously with noodles and ground beef, and it brightens all the ingredients in a way that makes this a wonderfully warm, delicious comfort food dish.
Recipe from:
Michele Phillips, BaconFatte.com
Recipe type:
Casseroles, Pasta Dishes
Ingredients
12 ounce package wide egg noodles, uncooked
1½ pounds lean ground beef
I large yellow onion, chopped (about 1½ cups)
2, 10¾ ounce cans cream of chicken soup
2- 3 cups freshly shredded Swiss cheese (8 – 12 ounces ounces)
1, 32 ounce jar Frank's Kraut with juice https://frankskraut.com/
1 medium shallot, halved and thinly sliced (about ¼ cup)
1 teaspoon dried thyme, divided
¼ cup fresh parsley (curly or flat leaf), roughly chopped for garish
Salt & freshly ground black pepper to taste
Preparation
Pre-heat oven to 350°F.
Cook noodles per package directions. Continue preparing ingredients below while noodles are cooking. When cooked, drain noodles completely and proceed as indicated below.
Heat a large skillet over medium heat. Add ground beef and chopped onion, and cook 8 to 10 minutes until beef is brown. Stir often. Season with salt and pepper to taste. NOTE: For best flavor, it's very important to season the beef at this stage. Drain any excess fat from pan.
In a large mixing bowl, add cream of chicken soup, half of the shredded Swiss cheese, half of the dried thyme, and the undrained sauerkraut, and stir to combine. Then add the cooked noodles and ground beef, and stir again to combine. Taste and season mixture if needed.
Spoon mixture into an ungreased 3-quart casserole dish, and bake (uncovered) for 30 - 40 minutes.
Carefully remove casserole from oven and add remaining Swiss cheese, sliced shallots, and remaining dried thyme over the top. Bake (uncovered) for an additional 10 minutes until cheese topping is completely melted.
Garnish with roughly chopped fresh parsley, and serve warm.
'Celebrate Flavor, Celebrate with Frank's'
Frank's Kraut is a 4th generation family-owned business, and it's the #1 brand here in the Midwest. They have a lot of pride in their business, and they love showing people great ways to enjoy their product. I'm thrilled beyond words to help inspire others by partnering with Frank's Kraut to create delicious kraut recipes!
Interested in more kraut recipes? Frank's has lots of them on their website, and they're always showing fun and delicious ideas from cooks, restaurants and bloggers on their social media channels. You can find Frank's on Facebook, Instagram, Twitter, Pinterest, and YouTube.
Craving more kraut?
Here are couple of other delicious kraut recipes to choose from!
It's the epitome of comfort food: Creamy butter-mashed potatoes studded with sweet corn and highlighted with the unmistakable umami of kraut. Potato, Corn and Kraut Gratin probably isn't one of the first things you think of when planning a dinner or party menu, but that could change very quickly once you try it!
Spaghetti Squash and Sauerkraut Casserole
This Spaghetti Squash and Sauerkraut Casserole has plenty of tangy kraut flavor combined with freshly roasted spaghetti squash, celery, red onions and cherry tomatoes. We even melted a little Gruyere on top for good measure. It's colorful and light, and makes a hearty, delicious side dish or meatless main.
Creamy Sauerkraut Spread with Bacon, Garlic and Shallots
Creamy Sauerkraut Spread with Bacon, Garlic & Shallots is a great addition to any well-rounded #snackuterie menu. This is not your typical dip or spread – its tangy, bacon-y, garlic-y goodness makes it completely crave-worthy. Enjoy as a dip with crackers, veggies, meatballs and wings, or spread it on sandwiches, sliders and burgers for a wonderfully flavorful twist!
Making this Sauerkraut Noodle Casserole recipe?
I'd love to hear about about any Bacon Fatte recipes that you make!
Leave a note here on the blog in the comments below, or share your creations and ideas on Facebook, Pinterest, Instagram, Twitter, and/or Google+ .
Make sure to hashtag #baconfatte or tag @baconfatte in your social media posts!