Having spent a good portion of my life as a floral designer, I've learned a lot about colors and textures. Working with flowers, greenery, branches and berries every day teaches you how the smallest detail can change the entire look and feel of an arrangement.
The same details apply to food (which, given my background, is why I often say that "food is my new flowers"). Tweaking the seasoning a bit here and there has impact, but change a main ingredient, and you can practically create a whole new look for a dish. Or, a whole new dish!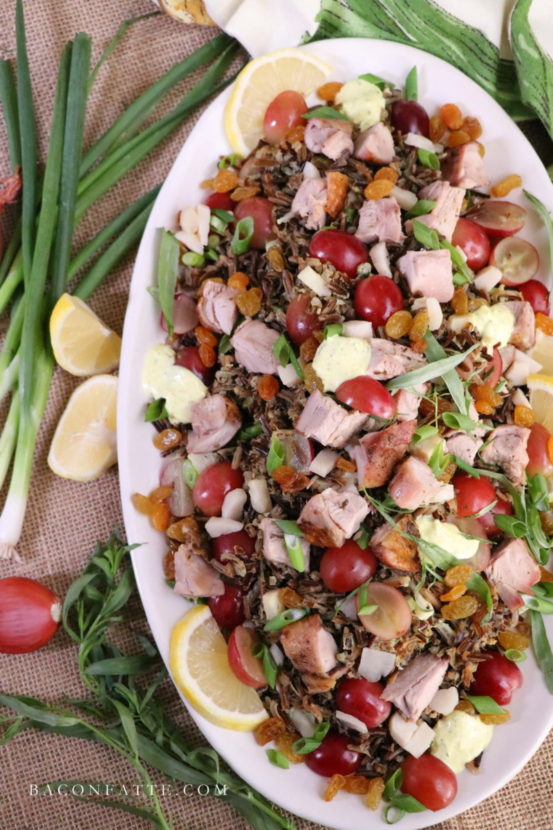 This works especially well for creating a fresh, seasonal look for something that you enjoy serving all year long. The more you make something, the better you get to know it. And taking the opportunity to "play with your food" a little when you cook allows you to put your own spin on things. That's how the dishes that you become "known" for happen.
That's how this gorgeous Turkey Wild Rice Salad with Tarragon and Grapes came to be.
An adjustment in the seasonings here and there… Grilling the turkey versus roasting it… Fresh herbs versus dried… And you know it when you taste it. Everything is just the way you like it.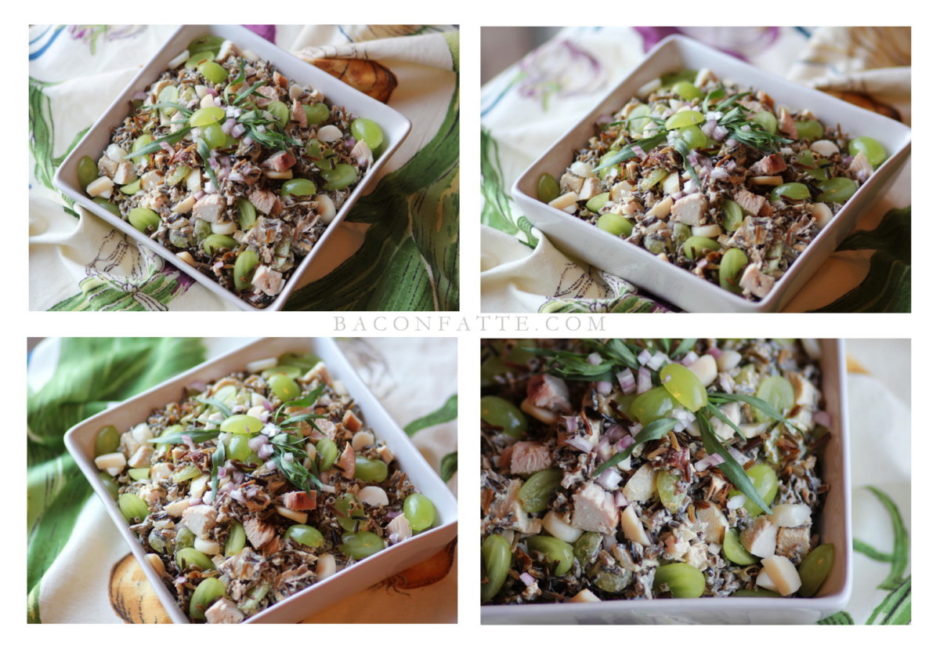 And, as you can see, we like – and make – this Turkey Wild Rice Salad a lot!
It's hearty and comforting, but unbelievably fresh and light at the same time. The many layers of flavors play well with the many textures – the fresh grapes, the water chestnuts, and of course, the tender turkey and wonderful wild rice.
Turkey Wild Rice Salad is relatively easy to make, too, especially if you're using "leftover" wild rice and turkey. I use the term "leftover" loosely because I'll often make extra as a short-cut for this dish. But, in terms of legitimate leftovers, this is one of the best post-Thanksgiving recipes ever.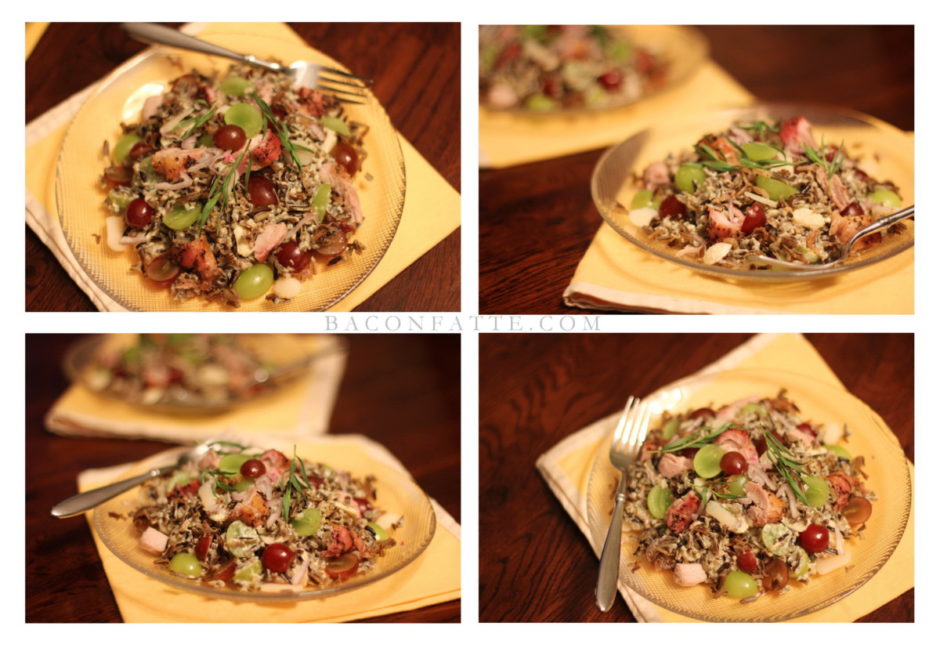 Here are a few notes on some of the variations and presentations we've enjoyed:
Different colors, varieties and combinations of grapes for different seasons are so pretty!
Adding golden raisins is particularly delish during fall and winter seasons.
Both light and dark turkey work well and impart their flavor profiles as expected.
Oven roasted, grilled, and Applewood smoked turkey are all delicious in this recipe.

In all cases, we season the turkey with a little salt and pepper, garlic powder, tarragon, and (sometimes) more curry before cooking.

I always set aside some grapes, water chestnuts, shallots, green onions and golden raisins sprinkle over the top of the salad just before serving – the brighter colors really pop against the turkey wild rice salad.
Dried tarragon is good, but use fresh if at all possible both in the dish and as a garnish – tarragon is amazing with turkey!
Shallots and green onions? YES!
I buy whole canned water chestnuts and slice the up myself. It's a nit-picky detail, I know, but I feel like you get more water chestnuts that way, and the slices tend to be more consistent.
You can totally prep this turkey wild rice salad a day in advance, but add the grapes and (half of) the sauce just before serving. (Yes, the sauce will flavor through if you mix it in ahead of time, but it also soaks into the wild rice, so the salad will seem a bit drier. That said, do whatever you can to save a little of this for lunch the next day… It's divine!)
The sauce… Oh, the sauce! Mix half within the salad, and serve the other half on the side. Having an extra drizzle of dressing over the top is… just… Yum!
I plan on serving this (sans turkey, and possibly with some finely chopped celery) for Thanksgiving next year… Having more beautiful holiday dishes that don't require last-minute oven time is a priority for me!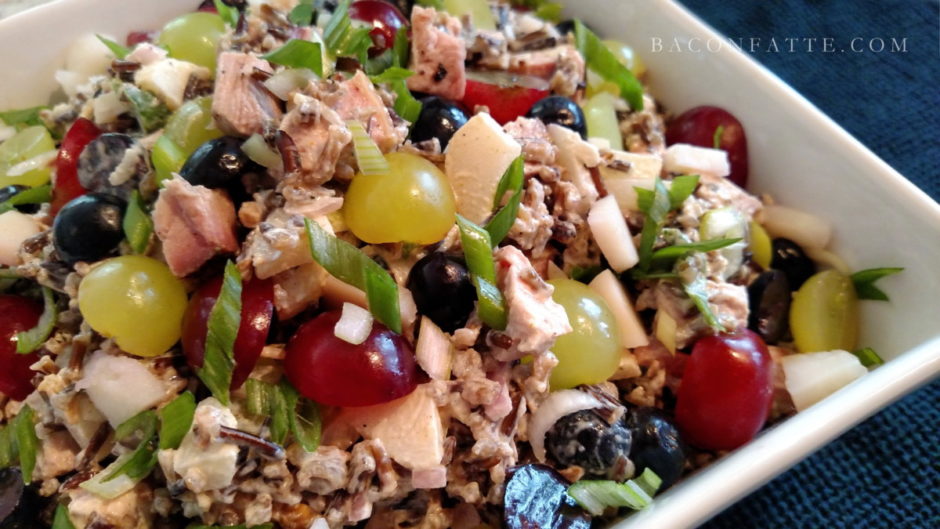 However you make it (even if you don't obsess over "the process" as much as I do), I really do hope you'll try this recipe. It's so, so good!
Enjoy!
Turkey Wild Rice Salad with Tarragon and Grapes
This Tarragon Turkey Wild Rice Salad is an incredibly flavorful dish to serve any time of year for lunch, dinner, or a beautiful side dish!
Recipe from:
Michele Phillips, BaconFatte.com
Recipe type:
Lunch, Dinner or Side Dish
Ingredients
For the Dressing
¾ (scant) cup mayonnaise
⅓ cup sour cream
3 tablespoons lemon juice (about ½ large lemon)
Zest from ½ large lemon
1 tablespoon fresh tarragon, finely chopped (or 1½ teaspoon dried)
2 tablespoons shallots, finely chopped
1½ teaspoon good quality curry powder
½ teaspoon salt
½ teaspoon finely ground black pepper
For the Salad
4 cups cubed cooked turkey (about 2 pounds, pre-cooked weight)
5 cups cooked wild rice (seasoned only with salt & pepper)
⅓ cup green onion, thinly sliced white and green parts
1 (8 ounce) can whole water chestnuts, drained and thinly sliced
⅓ cup golden raisins
2 cups grapes, halved (any color or combination of colors)
Preparation
In a small bowl, combine mayonnaise, sour cream, lemon juice, tarragon, shallots, curry powder, salt and pepper. Cover and refrigerate until you're ready to make the salad.
In a large bowl combine turkey and wild rice (room temperature or chilled), green onions, water chestnuts, and golden raisins. Optional: toss with half of the dressing and refrigerate for an hour or two.
Just before serving, stir in the grapes and all or the rest of the dressing. Garnish with more green onions, etc., and fresh tarragon.
Store refrigerated in an air tight container up to two days.
Cook's Notes:
See bullet points above for recipe variations and options.
Recipe adapted from
IowaTurkey.org
.
Let's talk Turkey Wild Rice Salad!
Feel free to leave a note here on the blog in the comments below! If you share your creations on Facebook, Pinterest, Instagram, Twitter, and/or Google+ , make sure to hashtag #baconfatte or tag @baconfatte in your social media posts!