If you're looking for a hearty, flavorful side dish for grilled or roasted meats, this Warm Roasted Cabbage Salad fits the bill!
To me, this is a "special dish" for a variety of reasons.
First of all, it requires very little effort. Simplicity is often key when we're looking for something healthy and delicious to make for a busy weeknight dinner. But it's also a great dish for entertaining. You can make the dressing and slice up the vegetables ahead of time, and just toss it all together and pop it in the oven to roast before serving.
For the "dressing," I love the extra flavor that a good white balsamic vinegar adds, but you can also use white wine or apple juice if you prefer.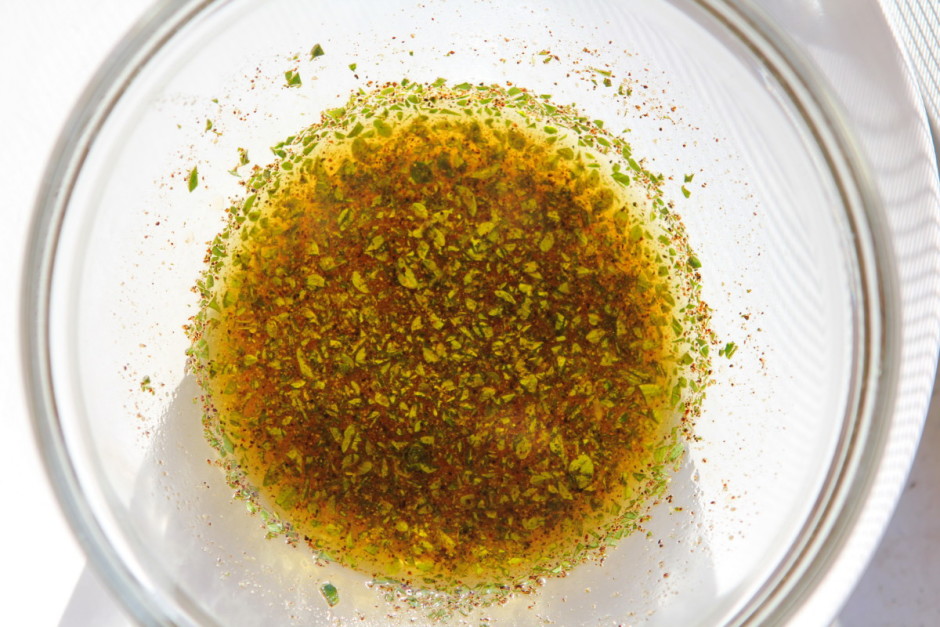 The red onion becomes wonderfully sweet and subtle when roasted, so don't be afraid to slice up the whole onion and toss it in.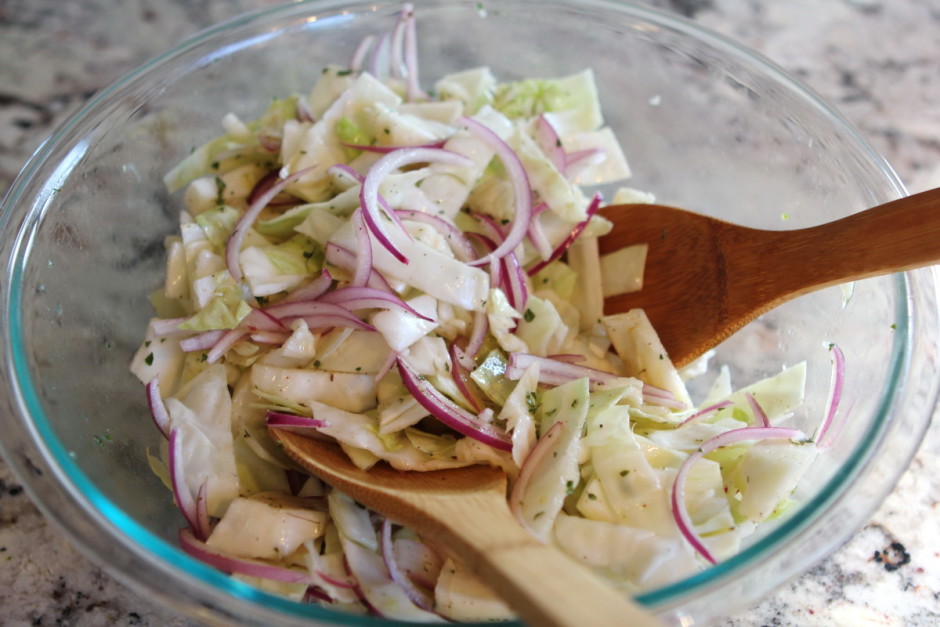 While this cabbage salad is absolutely delicious when served warm, it's also fabulous at room temp – especially if you leave a little more crunch in the veggies. For more crunch, just roast the cabbage and onions lightly for 10 minutes or so. If you want a more delicate, "wilted" texture, roast for 20  – 30 minutes until everything is cooked just the way you want it.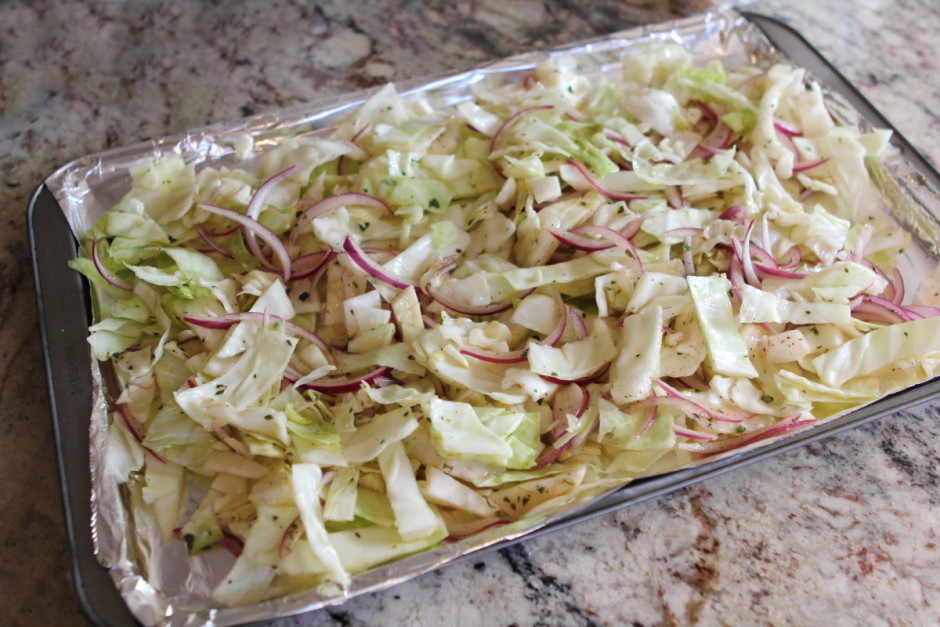 If you do happen to have leftovers, this cabbage salad is also really good right out of the refrigerator for lunch the next day.
The fact that this salad is so flexible makes it a winner for me any time of year. And, because I'm hopelessly sappy, I have to mention what makes this a particularly "special dish" to me.
Actually, there are a couple of things.
The first is that my beautiful German grandmother often made cooked cabbage dishes – many of which I'm still trying to pronounce, and the flavors of which I'm still trying to recall well enough to reproduce.
Although I've made and served this salad in lots of different ways, it's especially perfect when I serve it on this platter. It's a vintage Homer Laughlin. According to one source, the numerical code on the faded stamp on the back of the platter suggests that it was made in 1924.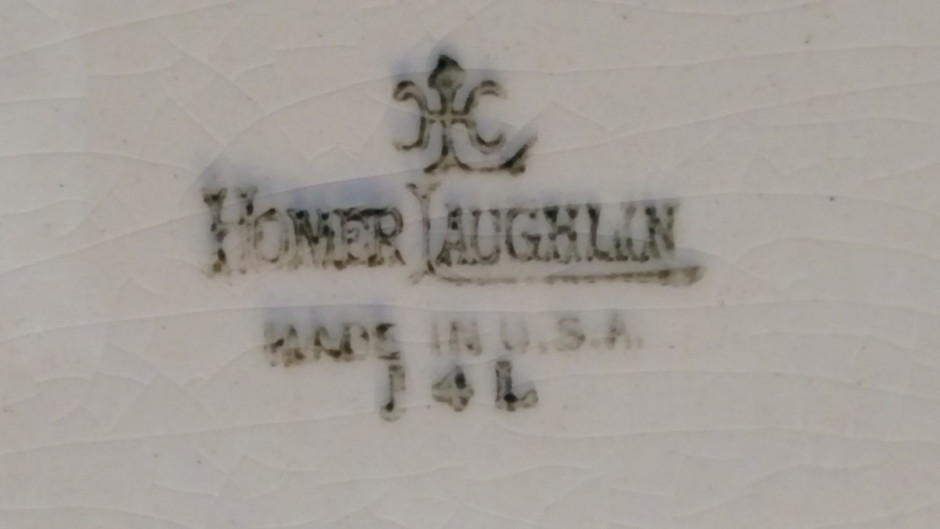 I haven't been able to find the name of the pattern or other pieces with the same pattern anywhere, so it seems to be a bit of an anomaly but I absolutely, positively love it.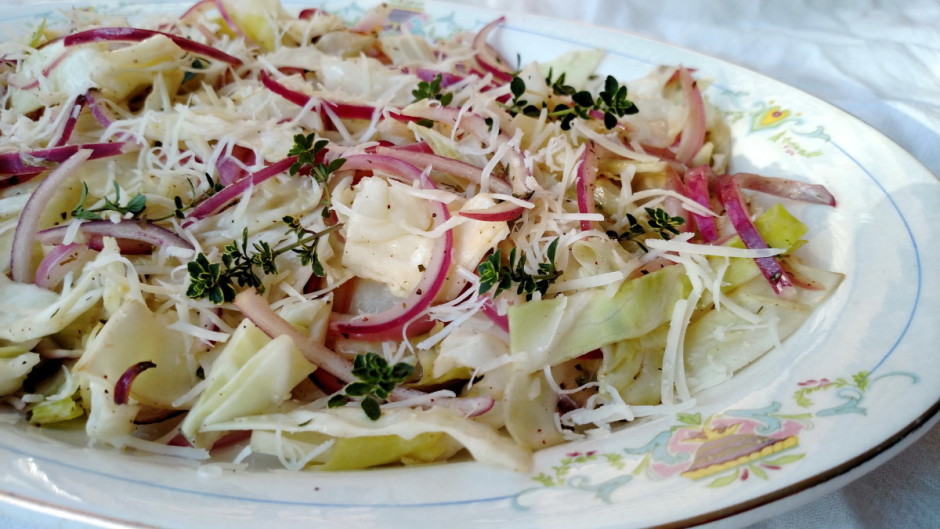 The platter belonged to my grandmother. I have no idea how long she had it or how she acquired it, but it was always on her table. It was the presentation piece of choice for her gorgeous roasted goose with crisp, herbed skin, and her delicious beef roasts which were always served in a well-seasoned pool of au jus.
Considering the number of things that have been carved and served on this platter, it's hard to believe it's still in one beautiful piece. While the stories of its 90+ years of service are written in a delicately crazed font on its surface, thankfully, those stories aren't punctuated by a single chip or crack.
I treat it like the priceless, history-filled antique that it is to me… It only comes out on very special occasions. It's carefully covered and padded and stored on the highest shelf where it can't be disturbed. It keeps company with another much-loved family treasure: My husband's grandmother's hand-painted vegetable bowl. We both have so many fond memories of these pieces at family dinners, so much so that we still catch our breath a bit when we see them.
Hopefully our grandmothers know that they're still very much a part of our lives because of the memories they created around their tables, and because of their very special dishes.
Whatever dish you choose to serve this warm roasted cabbage salad on, I hope you enjoy it as much as we do!

Warm Roasted Cabbage Salad
If you're looking for a hearty, flavorful side dish for grilled or roasted meats, this Warm Roasted Cabbage Salad will fit the bill perfectly.
Recipe from:
Michele Phillips, BaconFatte.com
Ingredients
2 tablespoons olive oil
2 tablespoons white balsamic vinegar, white wine, or apple juice
¼ - ½ teaspoon sea salt, to taste
¼ - ½ teaspoon fresh cracked pepper, to taste
1 teaspoon fresh thyme, finely chopped
½ medium head of green cabbage, quartered and sliced
½ - 1 whole medium red onion, halved and thinly sliced
½ cup shredded sharp white Cheddar or Asiago cheese
Fresh thyme for garnish
Preparation
Preheat oven to 400 degrees F.
Line a rimmed sheet pan with foil and set aside.
In a large mixing bowl, combine olive oil, white balsamic vinegar (or white wine, or apple juice), sea salt, fresh cracked pepper, and fresh chopped thyme.
Slice up the cabbage and red onion, add it to the mixing bowl and toss well to coat with the dressing.
Spread the dressed cabbage and onions on the lined sheet pan, and place in the oven. Check doneness after 10 minutes. If cabbage and onions are done to your liking, remove from oven. If you want them to be softer, lightly stir the vegetables and put them back in the oven. Check and stir the vegetables every 5 – 10 minutes until their done to your liking.
To serve, place the cooked vegetables on a large platter, sprinkle with shredded cheese of your choice (any white, sharp cheese works well), and garnish with fresh thyme sprigs.
I'd love to hear what other variations you come up with and how you've served this simple, delicious salad! Let me know here on the blog, or connect on Facebook,  Pinterest,  Instagram,  Twitter, and Google+ and make sure to hashtag#baconfatte or tag @baconfatte when you try this recipe. Thanks for cooking with BaconFatte.com!