Baked Whitefish with Lemon and Basil
This Baked Whitefish with Lemon and Basil is one of my favorite "No-Recipe Recipes"! It really doesn't even require steps or instructions… Just some guidelines for anyone who wants to try something new. This fresh, light dish so quick and easy to make, and it only has a few simple ingredients (which can also be varied).
But first, let's make sure we're on the same page about Whitefish!
Whitefish and White Fish 101: The Regional Difference
Having spent the better parts of the last dozen or so summers on our boat on Lake Superior in the Apostle Islands, I am now very familiar with the difference. Here's what you need to know.
The name "white fish" can be confusing because it is often used as a generic marketing term for many saltwater species of mild-flavored, white-fleshed fish. And, to top it off, there is an official "whitefish" that is a freshwater catch often caught in the Great Lakes. -SeafoodNutrition.org
You'll find "white fish" on menus everywhere, and in recipes of every kind. In general, this refers to any light-fleshed, mild-tasting fish such as tilapia, cod, flounder, sea bass, etc. It's a term often used on menus (especially those serving ocean fish) to simply describe whatever seasonal, sustainable fish-of-the-day they're serving.
What we're talking about here is Lake Whitefish or "Whitefish" – one word, sourced from the fresh waters of The Great Lakes (which I'm most familiar with) as well as Canada. Naturally, you'll find Whitefish more often near its freshwater sources.
For example, if you visit the South Shores of Lake Superior near the Twin Ports of Duluth/Superior, up in Bayfield, WI and Madeline Island, or up on the North Shore near Grand Marais, MN, you'll see Whitefish on just about every menu offered in a variety of preparations. Friday Night Fish Frys are very popular, as are Whitefish sandwiches. You'll also find a variety of broiled, sautéed and baked Whitefish entrees typically served with veggies, wild rice, salads, or "house specialty" side dishes.
Smoked Whitefish, and locally-made fish dips & spreads are ridiculously good – and always fun to be able to bring along home to enjoy after your trip. You'll also find flavorful fish soups and chowders, the recipes for which have often been handed down for generations. And although typically only available seasonally and in limited quantities, local delicacies such as Whitefish Livers and Whitefish Cheeks – for some – are not to be missed.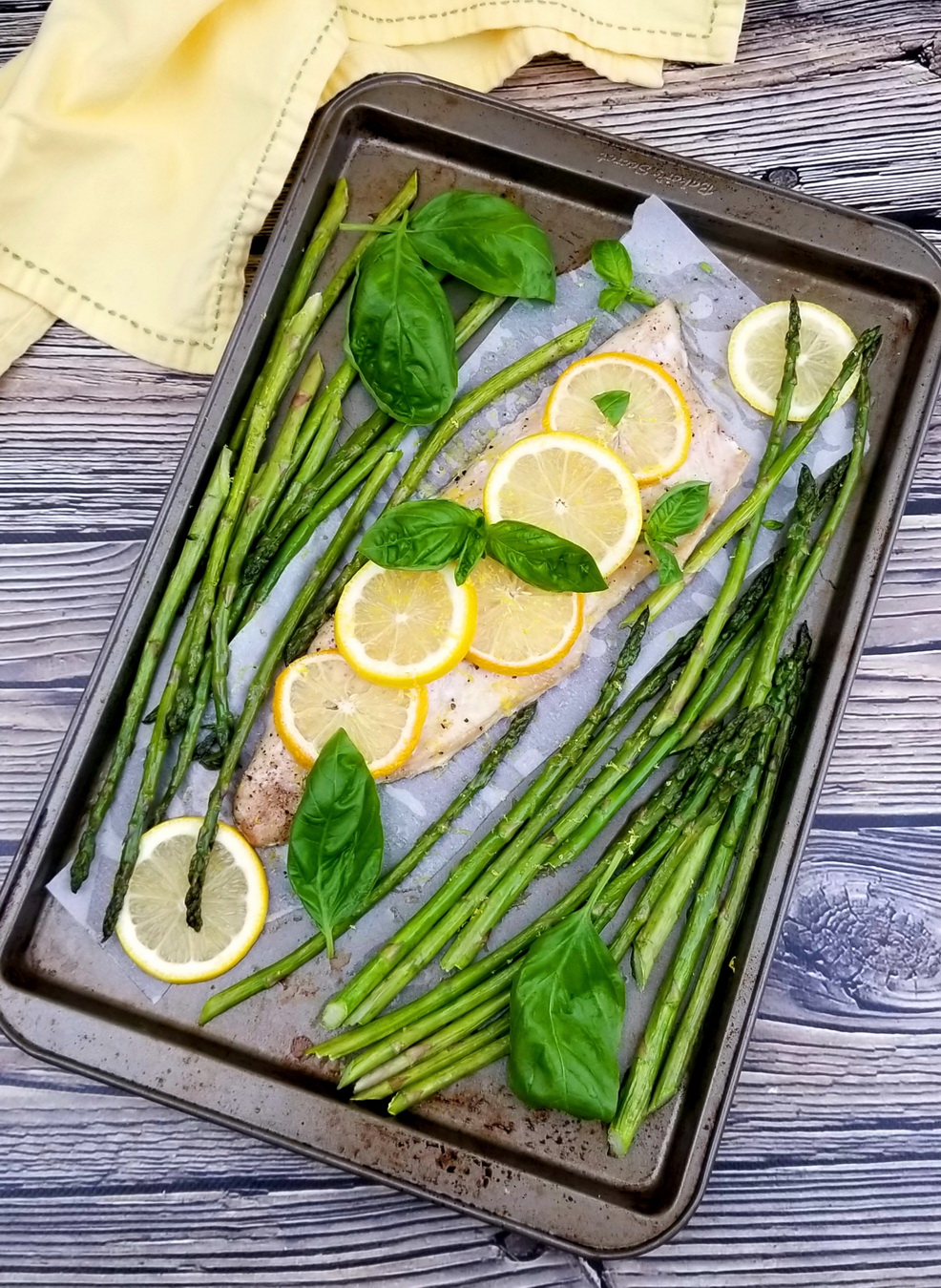 Whitefish is treasured local resource, often pulled from pristine waters just a day or two prior to being served. I'm told that Whitefish is hard to catch if you don't know what you're doing. Fortunately, there are various retail resources that offer it (and some will ship it) year-round!
You can buy the same Whitefish served by many Bayfield Area restaurants from the same place that they get it from: Bodin's Fisheries in Bayfield, WI. Bodin Fisheries has been fishing the local waters and providing businesses and families with fresh fish for over 5 generations.
Up on the North Shore near Grand Marais, you can find Whitefish at The Fisherman's Daughter fish market during the summer season.
In the Twin Cities, you'll find it at major fish & seafood suppliers like Coastal Seafoods and The Fish Guys – which is where the Whitefish for this Baked Whitefish recipe came from!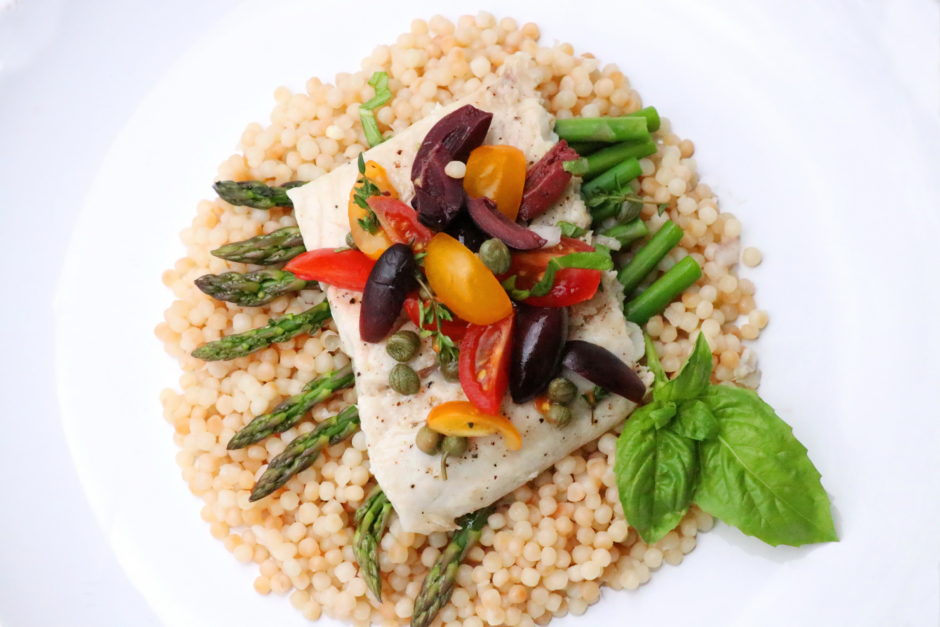 Another really incredible Whitefish dish is this Whitefish Provencal, inspired by a dish served by Good Thyme Restaurant & Catering in Washburn, WI – a personal favorite!
Skinless Whitefish is light, delicate, and delicious as can be. While the skin is thin, soft and totally edible, some people feel that it has a bit of a "fishy" taste so some restaurants and home cooks choose to remove it before cooking.
I left the skin on here as it practically melts when baked. I also line my baking sheet with a piece of parchment so the fish doesn't stick to the pan and is easier to plate. Just a personal preference for ease of both serving and clean-up.
Try other citrus fruits like lime or orange with Baked Whitefish, and use your favorite fresh herbs. And, yes, you can certainly use any other kind of "white fish" if you choose.
Enjoy!
Baked Whitefish with Lemon and Basil
Ingredients
1,

Whitefish filet

fresh asparagus, trimmed & washed

(or other vegetable of choice)

fresh basil and/or other herbs

good quality olive oil

sea salt & pepper, to taste

1/2

lemon, sliced
Instructions
Preheat oven to 350 degrees F.

Line a sheet pan with parchment paper.

Drizzle olive oil on both sides of the Whitefish filet, and rub to completely coat. Place filet – skin side down – on the parchment and season lightly with salt & pepper.

Toss asparagus with olive oil, salt & pepper, and place spears on the sheet pan.

Thinly slice a lemon and place several slices on top of filet. Reserve additional slices for serving.

Bake for 15 – 20 minutes, or until Whitefish is opaque and reaches cooked temperature of 140 degrees F.

To serve: Squeeze lemon on fish and vegetables, and enjoy!
Recipe Notes
*This baked fish doesn't "brown" – just bake it long enough to reach the proper temperature. Asparagus should still have some crunch to it.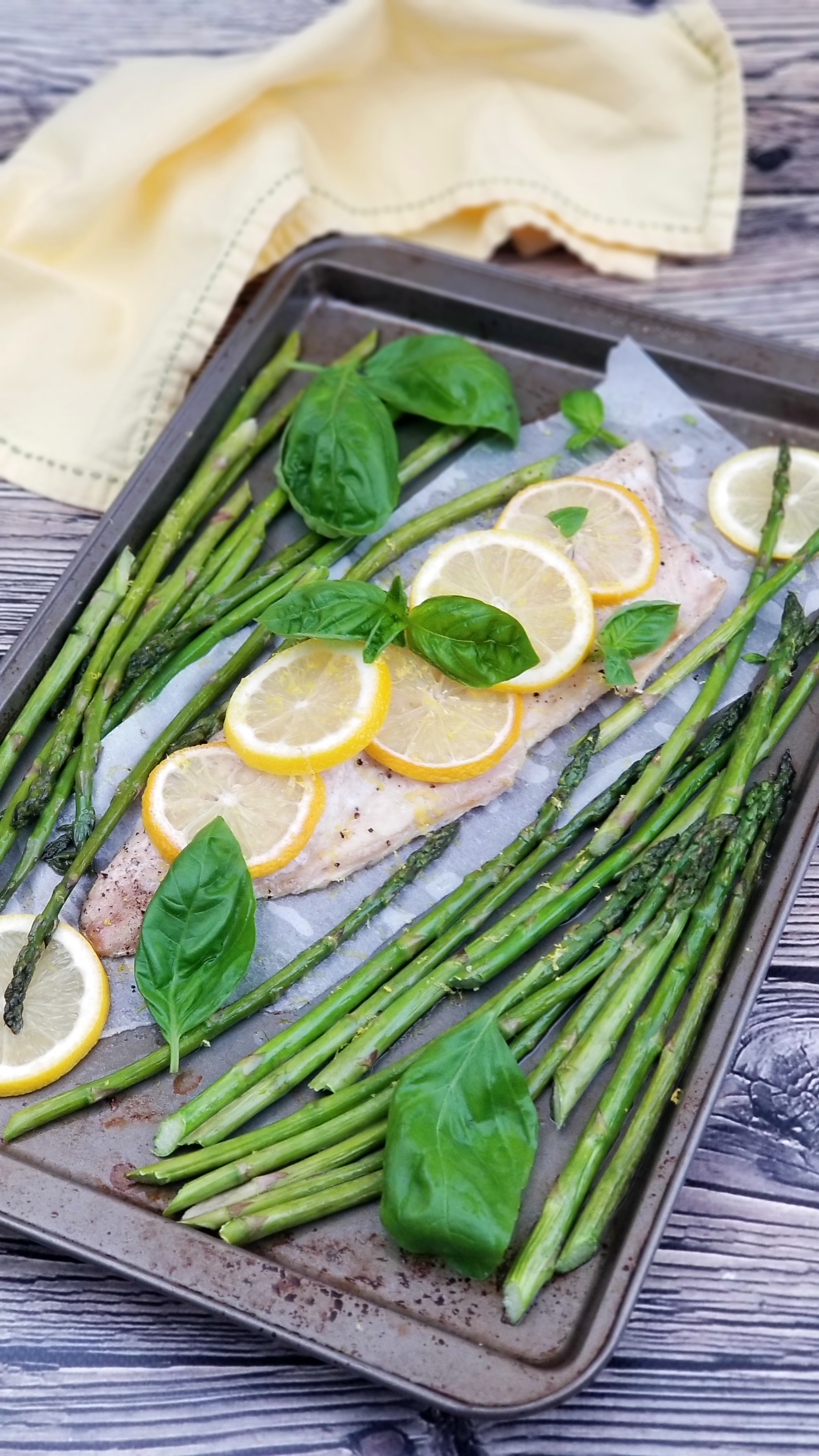 MAKING THIS BAKED WHITEFISH RECIPE?
Please leave a note here on the blog in the comments below, and share your creations on Facebook, Pinterest, Instagram, and/or Twitter!
Make sure to use the hashtag #baconfatte and tag @baconfatte in your social media posts so I can see it!