You know those yummy little salads served at resorts and fine restaurants: They're light and delicate, and usually don't involve that many ingredients, but they're absolutely wonderful…? Yes, those yummy little salads! Aren't they just divine?!
O.K., so maybe I'm the only one who obsesses over salads like that, but my obsession with them is how this one came about.
I made some wonderfully delicious Roasted Balsamic Crostini with Ricotta and Arugula for a neighborhood gathering one evening. There happened to be some roasted grapes left over – along with all of the fabulous roasted grape juice in the pan – so I tossed them in the refrigerator and figured I'd decide what to do with them the next day.
The next day, it became very clear that I "needed" to toss those gorgeous leftover merlot-hughed roasted grapes with some arugula and slivered almonds and have them for lunch.
It was heavenly.
I couldn't get enough.
So I roasted some more grapes the next day.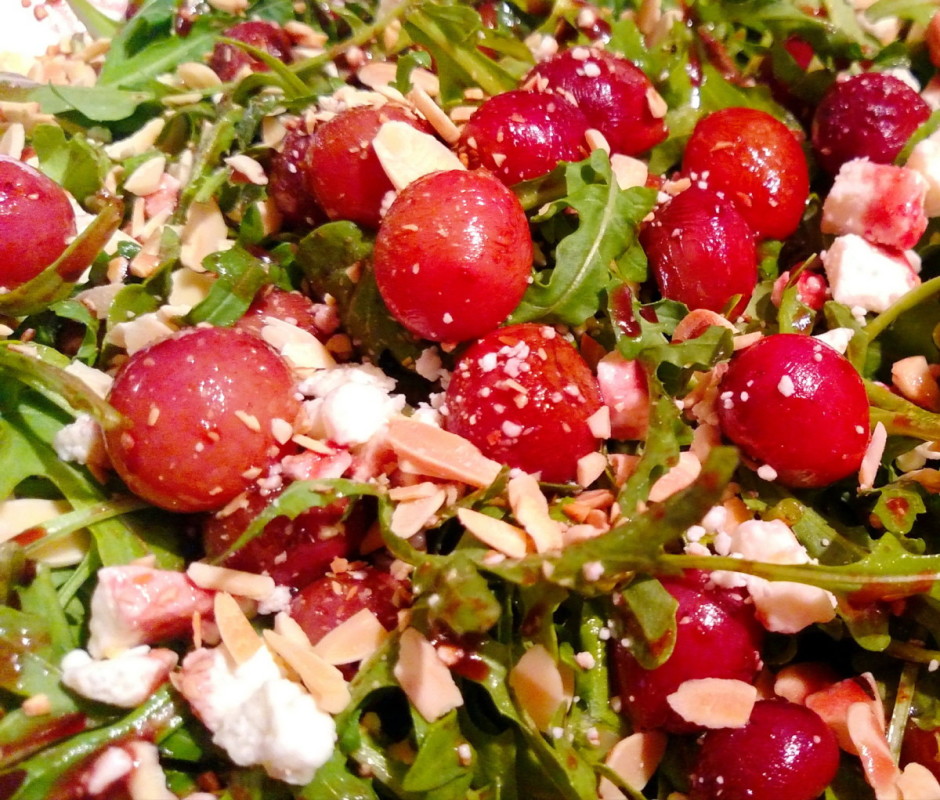 This time I chose some bright cranberry-colored grapes. And this time, I just roasted them lightly and sprinkled copious amounts of crumbled feta cheese over the top.
And it was even more heavenly.
Because a good, sharp, pungent cheese just has a way of taking things from good to GREAT!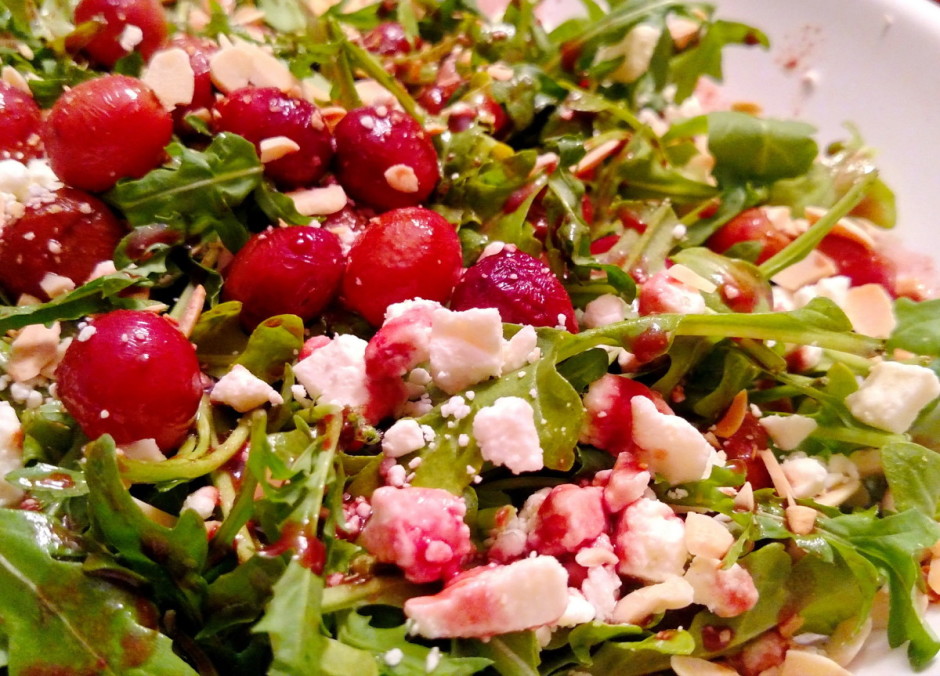 In fact, the aforementioned feta bumped things up enough that – along with some lightly chilled Pinot Grigio and a few pieces of baguette – this little salad became a delicious al fresco dinner on a warm summer's night. Because my husband and I are kind of romantic about really good food, and this salad has all the makings of romance – al fresco or otherwise.
Because we loved it so much, I decided to roast another batch of grapes the following weekend and make the salad for a friend's dinner party. Barbara's dinner party. And that's saying a lot, because Barbara is an entertaining maven.
When she throws a party, there's more food and wine than can be imagined. And it's absolutely delicious. And she does it all so elegantly and graciously, without even so much as a whisper of effort. Or so me makes it seem.
Her tastes are decidedly sophisticated, but absolutely approachable and down to earth – right down to the last classically fabulous detail. She's a strong personality who knows how to throw a party, and she makes sure everyone enjoys themselves the entire time, too. When she introduces you to someone, she somehow makes it seem like you've known each other for years. She's amazing. I want to be her when I grow up.
I brought the salad in separate, chilled containers so the greens wouldn't be saturated by the time we arrived, and so those who didn't want almonds or feta could opt not to add them from their separate little dishes. But Barbara said, "To heck with it! Throw it all in! It'll be great!"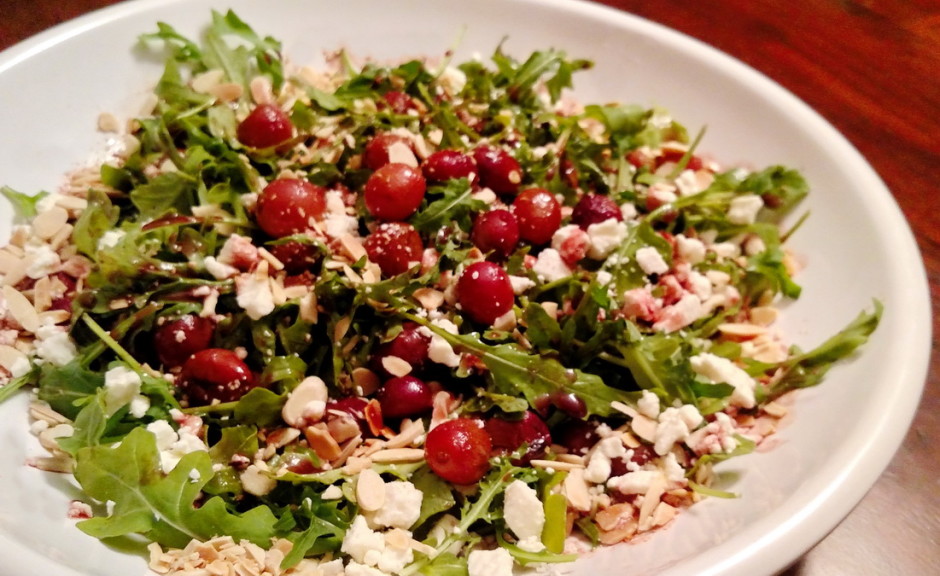 And it was great – even if I did feel a little odd about bringing something so simple to a fancy party.
So, it's with Barbara's gracious seal of approval that I tell you this: Despite its simplicity, this salad is absolutely wonderful. Please do try it soon! Whether it's on a hot summer's day, or in the middle of winter with a buttery chardonnay, I really think it'll be one of your favorites, too.
This salad is perfectly light and delicious for lunch or dinner, and it's a great dish to share at a dinner party, too. Make as much or as little as you want in advance and toss it together just before serving.

Roasted Balsamic Grape and Arugula Salad with Almonds and Feta| BaconFatte.com
This salad is perfectly light and delicious for lunch or dinner, and it's a great dish to share at a dinner party, too. Make as much or as little as you want in advance and toss it together just before serving.
Recipe from:
Michele Phillips, BaconFatte.com
Ingredients
For the salad:
6 cups fresh baby arugula
3 tablespoons roasted, slivered almonds
⅓ cup crumbled feta cheese
⅓ – ½ cup balsamic roasted grapes (recipe here)
For the dressing:
3 tablespoons balsamic roasted grape pan juice
1 tablespoon extra light olive oil
½ tablespoon white wine vinegar, optional
1 teaspoon good quality balsamic vinegar, optional
Preparation
In a large salad bowl, toss arugula, roasted grapes and roasted grape dressing well. Plate salads and sprinkle almonds and feta over the top. Add few grinds of fresh cracked pepper if you'd like.
I'd love to hear how you liked this recipe! Let me know by commenting here on the blog, and sharing it on Facebook, Pinterest, Instagram, Twitter, and/or Google+… Make sure to hashtag #baconfatte or tag @baconfatte!